Jenna Fischer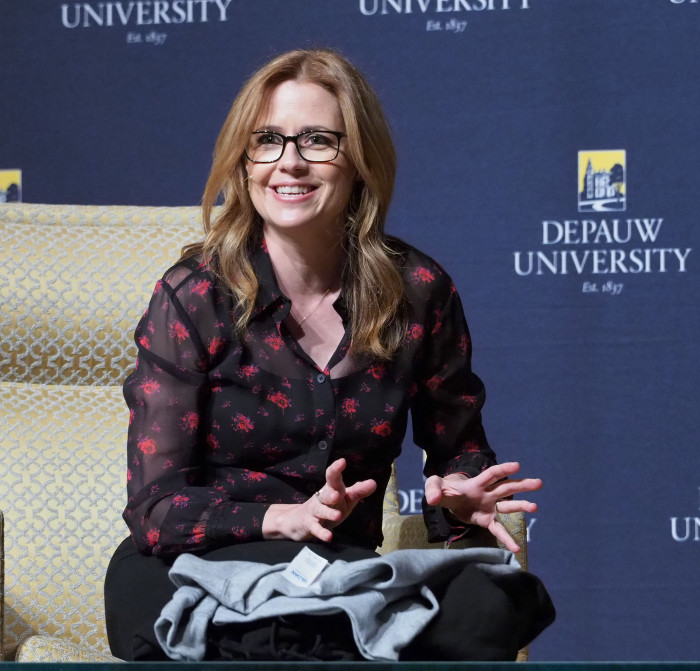 When it comes to navigating the road to success in life, "If it's difficult, you're doing it right. It doesn't mean you're doing it wrong," Jenna Fischer, star of TV's The Office and Splitting Up Together, told students at DePauw University tonight. Whether they're are pursuing careers in acting, business, or as change agents who hope to improve the world should "not expect it to be easy, and just know that ultimately you have to fight for what you want and that you're worth fighting for."
In a Timothy and Sharon Ubben Lecture before a packed Kresge Auditorium (capacity 1,450), Fischer used her new book The Actor's Life: A Survival Guide as the backdrop for a conversation about her struggles to establish a career in Hollywood, the success she's enjoyed, and the life lessons she's learned since graduating college herself.
Fischer studied at Truman State University, a public liberal arts college in Missouri. "This is bringing back a lot of memories," she said of her visit to DePauw. "I drove here and it was just driving through the farms all the way -- it was like farm, farm, farm, farm, school -- and that's what Kirksville, Missouri was," the home of Truman State.
"And I loved my liberal arts education," Fischer stated. "I loved that I didn't just focus exclusively the whole time; I took a variety of classes," she recalled. "I absolutely loved it. And I loved going to school in a smaller town, I was more comfortable with that, it felt good. I liked that I knew everyone in my department."
Fischer almost left for Los Angeles as she graduated from high school. "I can tell you with some good authority that Los Angeles is really not a great place to be 17 years old trying to break into the business. I'm really grateful that my parents didn't want me to do that and instead I insisted I go to college because that time in college is such an important developmental milestone, I think. It was in my life."
Fischer continued, "I learned who I was separate of my parents , separate from their religion, their political beliefs, just their way of running the house ... I was able to leave my family dynamic and make decisions about who I was and who I wanted to be before taking on my adult life and my career ... I am certain I would have been eaten alive if I didn't have those four years of growth before heading off to Hollywood."
After getting her college degree, Fischer did pack up a Mazda and drive to California, but the road to stardom was longer than she imagined. It took five years before she landed her first speaking role in a television production and six years before she was actually earning a living as an actor. Her audition for The Office came eight years after she moved west.
"At the time I remember thinking, 'There should be a book about how to do this' ... it should be encouraging, it should have a lot of practical advice and it should tell you all the things you shouldn't do, and it should help you navigate this. Why isn't there a book? It really bothered me."
Seven years ago Fischer decided to begin work on writing such a book. The result, The Actor's Life: A Survival Guide, was recently released.
No matter what career path they're headed down, Fischer advised students to bring a healthy dose of perseverance with them.
"I love and am inspired by people who, like, wait on the courthouse steps for 19 years until the law is changed. I would sit there, I am that person," Fischer told the audience. "My mom used to say when I was a little girl I would hold my breath until my face turned blue. She called the doctor and said 'What do I do?', and the doctor said, 'Nothing. She'll either breathe or pass out and start breathing,'" Fischer said to laughter from the full house.
That spirit of determination aside, Fischer called herself "more of an introvert," adding, "I think a lot of people think that maybe artists love being in the spotlight, and that's kind of what drew them to it, but what interests me about being an actor is studying people and why they do things and then recreating things in a way that you believe me."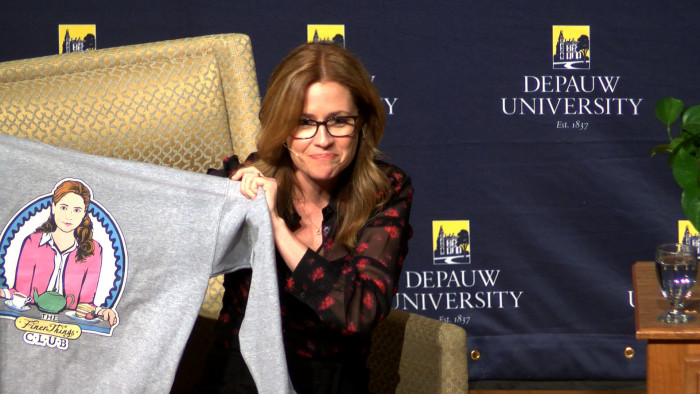 Fischer has had movie roles in Walk Hard: The Dewey Cox Story, Blades of Glory, Solitary Man, Hall Pass, and The Giant Mechanical Man (which she also produced). A key to success in life, she told students, is to make friendships and form collaborative relationships with others in your field.
"There's so much seasoning that has to happen, and the way that happens is by making your own work, creating your own opportunities," she offered. "And those opportunities don't come from meeting people at this level [holding her hand above her head], asking them to give you opportunities. It comes from meeting people at your own level, banding together, and rising together."
Tina Fey and Amy Poehler met in an improvisational performance class "and rose together," Fischer noted. She recommends "finding like-minded artists or even in whatever field, because those are really the only people who are going to understand you and give you that kind of emotional support that you need as you're sort of moving on."
The moderated conversation with Ken Owen '82, coordinator of the Ubben Lecture Series, was interrupted by a student protest. Fischer told the undergraduates involved, "I'm really moved by that." She added, "In my personal opinion, often times justice requires disruption and interruption of our scheduled lives."
In her remarks Fischer spoke of the importance of finding causes you care about and giving back. She told of her newly-launched "Pam's Finer Things Club," which will distribute proceeds from limited edition merchandise sales to Miry's List, a non-profit organization providing refugee families seeking safe haven in the United States. Fischer gave two audience members items that she brought to the venue.
She also encouraged the crowd to consider organ donation, another cause she supports and one that has touched her family.
"There's a starfish story, where there's a guy is walking on the beach and there's a bunch of starfish dying, and so he starts throwing the starfish back, one by one. And someone comes up and says, 'What are you doing? I mean, this isn't going to make a difference, there's thousands of starfish.' And then he says, 'It'll make a difference to this one.' I think if you can just make a difference once,to even one person," you're positively impacting the world, she said.
During the question-and-answer session Fischer was asked by a DePauw student how she should handle a dilemma: the career she wishes to pursue is different from the one her parents are promoting. "This is your life and it's your turn to make decisions for yourself now," Fischer advised the undergraduate. "So if that's who you are and who you should be in this world, then do it."
There were, of course, many questions about her role as Pam Beesly on The Office, a show many of the students grew up watching. "When I started on The Office I had been working as a receptionist and administrative assistant for about seven years; that was how I paid my bills," Fischer recalled. "I was very similar to Pam in the sense that I was shy and wanted to be polite and kind of do and say the right things, yet I had all of this stuff left inside of me that I wanted to express and say and do, but I just didn't know how. So as Pam found her voice, I found my voice ... And in fact, I'm note quite sure how to go back and play season two Pam, because those parts of me have been unlocked now."
Lena, Fischer's character in the new ABC comedy Splitting Up Together, "maybe has the opposite problem -- she doesn't know how to contain, she only knows how to express. And so i"m curious to see how Lena's journey will affect me, too."
Fischer was asked about a "reboot" of The Office by a young fan who exclaimed loudly, "I need more Office! Please?" She replied, "All I know is that NBC has been talking to the creator of our version of the show about a way to kind of make that happen. So the complicated part is that I'm on a new show on a totally different network, and John (Kraskinski)'s on a new show on a totally different network, so they're going to have to get really creative in terms of having networks talk to each other and give permission." Fischer added, "But I feel like people are good at getting around those problems ... because creatively, we all would love to work together. For sure."
It's too soon to see if there's been a "real shift" in Hollywood after the #MeToo allegations of sexual harassment, assault and widespread abuses of power by powerful men, but Fischer declared, "I really, really hope so." Fischer, who was harassed herself when she worked in an office job, told the crowd, "This shouldn't be happening to people, it just shouldn't, and it's not just women, you know."
Fischer's been very busy since leaving The Office, starring in Neil LaBute's Off-Broadway play Reasons to Be Happy and in the world premiere of Steve Martin's comedy Meteor Shower. Her new TV series has been met with positive reviews and she was recently seen portraying the mother of the mother of Army National Guard Specialist Alek Skarlatos in The 15:17 to Paris, directed by Academy Award-winning film icon Clint Eastwood.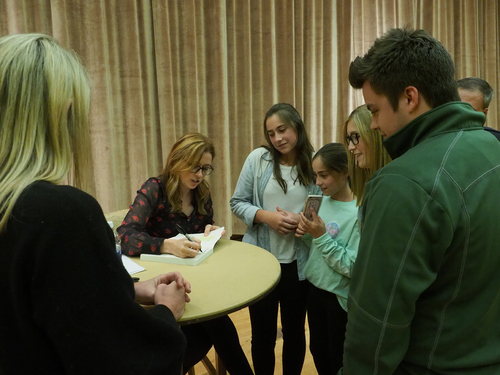 "I honestly don't care if I'm only ever remembered as Pam," she said in response to an audience question. "It was my great honor to have played her and if people call me Pam until the day I die it will be no problem for me."
Jenna Fischer's day at DePauw included a news conference attended by student journalists; an acting workshop with theatre students; a reception at The Elms which was attended by DePauw students; and the Ubben Lecture. Following the event she signed more than 100 books and posed for photos.
The event marked the 111th Ubben Lecture in the program's 32 year history and the fourth of this academic year. Malala Yousafzai/, the youngest-ever recipient of the Nobel Peace Prize, visited DePauw on September 4, 2017 and became the youngest-ever Ubben Lecturer. Bill Rasmussen, founder of ESPN and 1954 DePauw graduate, spent the week of the Monon Bell game meeting with DePauw students and delivered a November 8 Ubben Lecture on "Finding Your Passion, Realizing Your Dream." David Hanson and his robot creation Sophia spoke February 28.