Bob Wells '66 Receives Harrington-Howes Community Spirit Award
May 23, 2012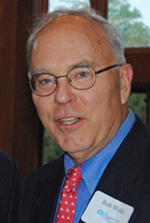 Robert F. Wells, a 1966 graduate of DePauw and a member of the University's Board of Trustees, has been presented with the Obie Harrington-Howes Community Spirit Award. The award -- which goes to an individual who has who has served several organizations as a volunteer in a dedicated and impactful way -- was presented to Wells last Friday, May 18, at the thirty-third annual "Volunteer Recognition Day" in Darien, Connecticut.
"Wells received this recognition for what he brought to the nonprofit world," reports the Darien Times. "A former advertising executive, he has been an advocate and volunteer serving on the boards of Family Centers, the Darien Land Trust, and the Maritime Aquarium. He has served as chairman of the Parks & Recreation Commission and was president of the Community Fund for five years. As director of a steel drum band, 'The Blue Flames',
Wells arranged all the music for a band that has raised over $300,000 for diabetes research as well as family crisis counseling, among other worthwhile causes. His legacy of volunteer work has inspired, enlightened, moved and motivated everyone around him."
Read more at the newspaper's website.
Bob Wells, retired executive vice president of Young & Rubicam, Inc., was also the recipient of the 2011 Helen Gratz Rockefeller Outstanding Volunteerism Award. Details can be found in this previous story.
Back