Former CIA Director Robert Gates to Speak December 3 on 'Terrorism: A New Face, A New World'
November 19, 2001
See and Hear from DePauw's Ubben Lecturers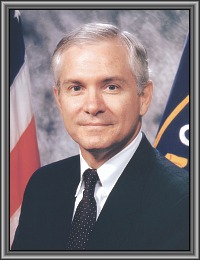 November 19, 2001, Greencastle, Ind. - Robert M. Gates, who served as director of the Central Intelligence Agency (CIA) under President George H. W. Bush, will deliver a Timothy and Sharon Ubben Lecture, Monday, December 3, 2001 on the campus of DePauw University. Dr. Gates' speech, entitled "Terrorism: A New Face, A New World," will examine how terror networks have developed, America's response since the attacks of September 11 and what the future holds. The speech, which is free and open to the public, will take place at 7:30 p.m. in Kresge Auditorium of the Performing Arts Center.
The only career officer in the CIA's history to rise from entry-level employee to director, and the only intelligence analyst to become director, Robert Gates headed the agency from November 6, 1991 to January 20, 1993, overseeing all foreign intelligence agencies of the United States. Dr.

Gates joined the CIA in 1966 and spent nearly twenty-seven years as an intelligence professional, serving six presidents. During that period, he spent nearly nine years at the National Security Council, serving for different presidents at The White House.
The author of an acclaimed memoir, From the Shadows: The Ultimate Insider's Story of Five Presidents and How They Won the Cold War, Dr. Gates has been awarded the National Security Medal, the Presidential Citizens Medal, is a two-time recipient of the National Intelligence Distinguished Service Medal and received the CIA's highest award, the Distinguished Intelligence Medal, three times.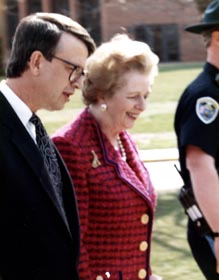 Robert Gates' DePauw appearance will be a homecoming of sorts, as he received his masters degree in history in 1966 from Indiana University. Dr. Gates has a B.A. degree from the College of William and Mary, and a doctorate in Russian and Soviet history from Georgetown University.
Having served as dean of the George Bush School of Government and Public Service at Texas A&M University from 1999 until earlier this year, Gates serves on the boards of The Fidelity Funds, TRW, Inc., Parker Drilling Company and NACCO Industries. He is also a trustee of the Charles Stark Draper Laboratory in Boston.
Monday morning, Dr. Gates will speak to a group of DePauw political science students.
The Ubben Lecture Series has brought distinguished individuals to the DePauw University campus since 1986 (including Britain's Margaret Thatcher, seen in photo with DePauw President Robert G. Bottoms). To view a complete list of Ubben Lecturers, which includes links to video clips and news stories, click here.
Back