One-Man Show, The Writers Entertain, at Kerr Theatre Tuesday
November 23, 2001

November 23, 2001, Greencastle, Ind. - Actor Neil O' Shea will bring his one-man show The Writers Entertain to DePauw University on Tuesday, November 27, 2001. A leading Irish stage and screen performer, O'Shea will perform pieces that take the audience on a journey through the works of some of Ireland's most famous writers. In his tightly woven, one-hour performance, audience members will be invited into the hilarious world of Lady Bracknell in Oscar Wilde's The Importance of Being Earnest, and the intricacies of the Irish imagination in George Bernard Shaw's John Bull's Other Island. Among other representative selections, O'Shea will perform poetic gems of William Butler Yeats and Seamus Heaney, as well as excerpts from James Joyce's romantic masterpiece A Portrait of the Artist as a Young Man.
Neil O'Shea studied and acted at University College, Dublin, and attended Ireland's National Theatre (the Abbey Theatre School of Acting). He has appeared in many of Dublin's theaters, including the Abbey, the Peacock, the Project, and Andrew's Lane where he played Oscar Wilde in the Irish Actors Theatre Company's The Life and Times of Oscar Wilde. O'Shea has worked in radio and on television with the National Broadcaster RTE. He has also toured extensively throughout Europe and the United States with the Irish Actors Theatre Company performing in numerous productions. The Writers Entertain toured the U.S. in the fall of 1999, and its success has prompted a return visit. The show pays tribute to the extraordinary wealth of literature that has emerged from Ireland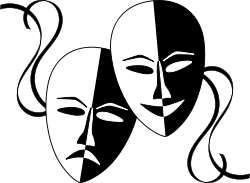 and continues to emerge to this day.
The Writers Entertain with Neil O' Shea will be performed on Tuesday, November 27, in the Performing Arts Center's Kerr Theatre at 7:30 p.m. Admission is free.
An acting workshop with Neil O'Shea will be offered on Monday, November 26, at 4 p.m. in Kerr Theatre. The workshop is sponsored by Duzer Du and admission is free. All members of the DePauw and Greencastle communities are welcome.
Back