Five Receive Honorary Degrees at 163rd Commencement
May 19, 2002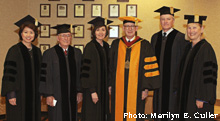 May 19, 2002, Greencastle, Ind. - Five distinguished individuals, three of them graduates of DePauw University, received honorary degrees at today's commencement exercises. The honorees were:
Elaine L. Chao - Doctor of Public Service. The U.S. Secretary of Labor, who provided the primary address to DePauw's Class of 2002, also received an honorary doctorate. (To learn about her speech, click here).
Nancy Ford Charles '57 - Doctor of Fine Arts. Composer of the music for the off-Broadway show, Now is the Time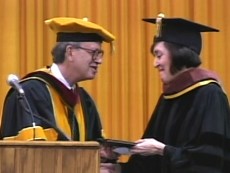 for All Good Men, Charles also has been a staff scriptwriter for daytime television serials.
[DOWNLOAD VIDEO: "Nancy Ford Charles" 557KB] "Besides the excellent academic foundation and formal music training DePauw provided, there's not one area of my career that was not in some way, directly or indirectly, affected by my DePauw associations." She calls her classmate and collaborator, Gretchen Cryer, "the greatest gift of all ... most of the music I have written has been inspired by Gretchen." Nancy Ford Charles has received many awards over the years including the Outer Critics Circle Award, Drama Desk Award, Obie Award, a Grammy nomination, two Writers Guild Awards, and two Daytime Television Emmys.
Norine Goode Johnson '57 - Doctor of Science. The ninth female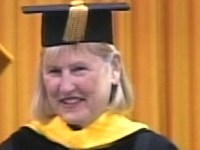 president of the American Psychological Association, Dr. Johnson is a scientist-practitioner in full-time independent practice and the owner of four psychology businesses.
[DOWNLOAD VIDEO: "Norine Goode Johnson" 811KB] "I thank DePauw University, and especially the psychology faculty, for providing me with an atmosphere of scholarship, stimulating and challenging conversation, and for showing confidence in me as someone who could and would make a difference."
John F. McWethy '69 - Doctor of Journalism. The chief national security correspondent for ABC News since 1984, Mr. McWethy reports on military and diplomatic aspects of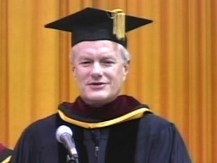 U.S. foreign policy, primarily from the Pentagon, and has won three national Emmy Awards.
[DOWNLOAD VIDEO: "John McWethy" 1500KB] "I never would have dreamed that writing my last story for The DePauw would have ended up helping me hone skills that would take me around the world from this campus in Greencastle to all the countries I've had the privilege of stepping onto, giving me a front row seat to three decades of history, 7 presidents, covering the collapse of the Soviet Union, the war in the Persian Gulf, and take me to some of the nastiest countries on the planet -- Mogadishu and Somalia, Port-au-Prince, Haiti, the Tora Bora region of Afghanistan -- all to help learn about what the conflict is all about."
Glenn M. Swisher - Doctor of Humanities. An Indiana business and political leader, Mr. Swisher is the retired chairman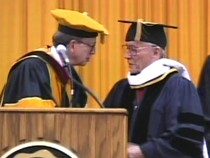 and chief executive officer of Syndicate Systems, Inc., and is currently president of the Indianapolis-based Swisher Foundation. While focusing its support on medical research and development, the Foundation also has been highly supportive of higher education in Indiana and Kentucky, including the Independent Colleges of Indiana, DePauw University and Cumberland College.
[DOWNLOAD VIDEO: "Glenn Swisher" 889KB] "I think all of us, especially those who are residents of Indiana, realize how fortunate we are to have this truly national university in our midst. A University is known by the achievements of its graduates, and DePauw has alumni who are leaders of our state, nation and the whole world," Swisher said.
On Alumni Reunion Weekend in June, a sixth honorary degree will be bestowed upon
George A. Shearing - Doctor of Music. A pianist, composer and bandleader, Mr. Shearing has been making joyful music for six decades. In 1949, Shearing received an unprecedented reception with his recording of September in the Rain, which introduced a completely new sound and approach to modern jazz. Shearing wrote what would become a standard and his most famous composition, Lullaby of Birdland, in 1952. Throughout the 50's, 60's and 70's, the George Shearing Quintet enjoyed continued popularity, recording with various small groups that included Joe Pass, Toots Thielemans, Cal Tjader, Nat King Cole, Peggy Lee and Mel Torme, among others. Shearing remains active and is considered one of the best-known musicians in jazz. He is married to Eleanor (Geffert), a 1955 DePauw graduate.
Back