NY Times Notes Death of Noted Publisher & Writer Angus Cameron '30
November 24, 2002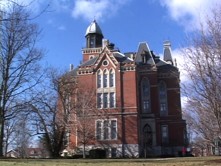 November 24, 2002, Greencastle, Ind. - Calling him "a born storyteller" and "a master of classical allusion," the New York Times has noted the passing of Angus Cameron, a 1930 graduate of DePauw University and "a former editor in chief of one of America's foremost publishing houses, whose leftist sympathies forced him to resign during the anti-Communist fervor of the 1950's." Mr. Cameron, who was 93, died Monday in Charlottesville, Virginia.
A lengthy obituary in the Times which was also published in many other American newspapers says, "Cameron was top editor at Little, Brown, the publisher of J. D. Salinger, Lillian Hellman and Evelyn Waugh. In his eight years there, he gained a reputation for his keen appreciation of authors' creativity and the public taste. When C. S. Forester wanted to stop writing his Horatio Hornblower series, Mr. Cameron inspired him to keep it going... But in 1951 Mr. Cameron, who belonged to many leftist organizations and spoke publicly about his beliefs, came under scathing criticism from conservatives. Little, Brown asked him to clear his outside activities with the company. He refused and resigned,

and he and his family embarked on outdoor adventures about which he later wrote books... Mr. Cameron testified several times before the Senate Internal Security Subcommittee and the House Un-American Activities Committee, citing the First Amendment guarantee of free speech and the Fifth Amendment protecting against self-incrimination for most questions."
In a recent interview, Angus Cameron said he left Little Brown when the company insisted that he report all of his outside activities; for example. whether "I was going to speak against the Korean War.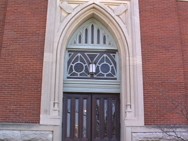 I never considered that I was a radical." Cameron was blacklisted for ten years, but moved to a cabin in the Adirondacks and formed his own publishing company. "We published revenge books," he said, in other words any book against (Sen. Joseph) McCarthy... I made it difficult for the government because I didn't give a ....."
The Times adds that Cameron "graduated from DePauw University, where he was introduced to the writings of Marx. After college he attended meetings of the John Reed Club, a national literary organization sponsored by the Communist Party, but did not join, said Jonathan Coleman, who is writing a biography of Mr. Cameron."
O. Ralph Raymond II, professor of political science at DePauw, notes, "The death of Angus Cameron, the
well-known publisher of much of the most seminal work in twentieth-century American literature, reminds us of the tradition of intellectual diversity at DePauw, despite the University's long-time reputation as a monochromatic bastion of Midwestern conservatism. It also reminds us of the cost that often must be paid for intellectual courage."
You can access the complete obituary at the Times' Web site (a free registration is required) by clicking here. An Associated Press article on the death of Mr. Cameron is available here and here. Read more about Angus Cameron here.
Back