Singer-Songwriter Matt Nathanson to Perform Free Concert Tuesday Night
December 6, 2002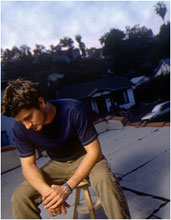 December 6, 2002, Greencastle, Ind. - Singer-songwriter Matt Nathanson, who has released four independent CDs and was recently signed to Universal Music, will bring his talents to DePauw University for a free concert, Tuesday, December 10 at 7 p.m. in the Hub of the Memorial Student Union Building. Sponsored by student-operated radio station WGRE and the Resident Students Association (RSA), the show will feature DePauw first-year student David McMillin as the opening act.
The San Francisco Examiner's Craig Marine says Matt Nathanson's "lyrics have a real understanding about what it means to be human in an imperfect world, where love is not always returned, or at times returned in a flawed and ultimately destructive fashion." The 29-year-old Nathanson has been touring since his college years, and has recently played with such artists as John Mayer, Howie Day, and O.A.R. He recently released an EP, When Everything

Meant Everything, and is scheduled to release his first album for Universal next summer.
You can learn more about Nathanson at his Web site, accessible by clicking here. Read a review of his new EP here.
David McMillin's new CD, Where I Belong, features 14 acoustic originals. You can learn more about McMillin and his music at his Web site by clicking here.
Back