Brad Nadborne '81, Interim Head Basketball Coach at UW-L, Subject of Newspaper Article
January 19, 2003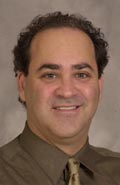 January 19, 2003, Greencastle, Ind. - "Brad Nadborne just can't help himself. It's his nature to gamble. To believe that a 10,000-to-1 long shot somehow will pay big dividends. Maybe not immediately, but in the future," begins an article in today's LaCrosse Tribune on the member of DePauw's Class of 1981. "It's the only way to explain why Nadborne left his job as an assistant men's basketball coach at DePauw University to become the University of Wisconsin-LaCrosse's interim head coach last August. He had no head coaching experience, and no guarantee he would keep his job beyond the 2002-03 season, yet he was willing to take a chance."
"I'm a risk-taker, and I know I took a calculated risk in coming here," Nadborne tells the Wisconsin newspaper. "But when I see an opportunity like this, I like to take a chance. And I see so much opportunity here." UW-L is off to a 5-11 start, and because of injuries and attrition, has just 8 players on its roster. "Every situation has its challenges," the coach says. "I'm not naive to what people see and what the perception of us is right now. But I think I'm very realistic about what I think this group can accomplish. ... Where other people may see obstacles, I see a challenge."
UW-L senior guard Rocky Bouldin gives the interim coach high marks. "Everybody's got a lot of respect for coach Nadborne. A lot of things that have happened aren't his fault. I think everybody would love to see him come back next season."
You can read the article in its entirety, and view a color photo of Brad Nadborne, by clicking here.
(photo of Brad Nadborne by Marilyn E. Culler)
Back