Musician Meg Rodgers '93 Profiled in Newspaper
December 4, 2003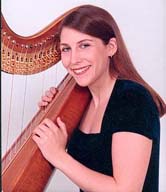 December 4, 2003, Greencastle, Ind. - Marguarite "Meg" Rodgers, a harpist with Indiana's LaPorte County Symphony Orchestra and a 1993 graduate of DePauw University, "breaks into heavenly renditions of Nothing Else Matters by Metallica during harp performances," notes an article in the South Bend Tribune. The story points out that "in 1992, she studied harp in Austria in DePauw University's overseas program during her senior year."
Of her penchant for playing Metallica, Rodgers tells the newspaper, "I like to perform their songs just to make sure everyone is listening." Sharon Dettmer writes, "Like one of her favorite harpists, the legendary Harpo Marx, Rodgers has an excellent sense of humor... Rodgers also dabbles in many genres of music -- rock harp, gospel, jazz and folk -- but playing classical harp suits her the best. She started playing the harp on a lark at 14, after first practicing piano and flute."
The article continues, "Rodgers earned a master's degree in music in harp performance from Northwestern University, and a bachelor's in music from DePauw.
She performs with the LaPorte Symphony Orchestra and is the assistant principal harpist for the Rockford Symphony Orchestra in Rockford, Illinois. She enjoys playing her Lyon & Healy harp, adorned in beautiful gold-leafing and built in 1921. Rodgers performs at art exhibits at the Chicago Institute of Art, at weddings, family gatherings and corporate events. She is a harp instructor at St. Joseph High School in St. Joseph, from which she graduated in 1989... Rodgers will perform with the LaPorte Symphony Orchestra at the "Holiday at the Pops" concert December 13 at the Civic Auditorium on Ridge Street in LaPorte."
Access the complete article, which includes a color photo of Meg Rodgers, by clicking here. Visit Rodgers' Web site by clicking here.
Back