Sophomore Mike Knight Selected for International Mission on Diplomacy in Brazil
May 23, 2004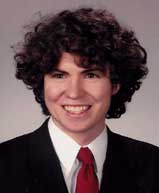 May 23, 2004, Greencastle, Ind. - Michael Knight, who just completed his sophomore year at DePauw University, is participating in the International Mission on Diplomacy in Brazil, which began yesterday and continues through June 4. Knight was one of approximately 80 college students throughout the United States selected by Envision Institute, which sponsors the missions, to explore the inner workings of international affairs in Brazil. In particular, Knight will explore the modern-day issues that drive the need for strong diplomatic ties between Brazil and other countries of the Americas.
As our country focuses on building global networks with the aim of negotiating through international conflicts, individuals like Michael Knight are seeking
out opportunities to learn how other countries utilize their diplomatic corps," John Hines, executive director of Envision Institute, says in a news release. "The International Mission on Diplomacy engages its participants to learn from individuals currently leading cooperative efforts in staving off potential international conflict."
For more information, visit Envision Institute online by clicking here.
Back