522 Receive Diplomas at DePauw's 165th Commencement
May 23, 2004
Also: "Coach Nick" Addresses Class of 2004; Five Distinguished Individuals Receive Honorary Degrees; View Photo Gallery; Order Your Commencement DVD
May 23, 2004, Greencastle, Ind. - "We have changed the way we look a lot since you've been students here," DePauw University President Robert G. Bottoms told the 522 DePauw University seniors who were awarded degrees this afternoon at DePauw's 165th annual commencement. The president noted that the new graduates were among the first students to use DePauw's new indoor track and tennis center and Peeler Art Center, the expanded and renovated Percy Lavon Julian Science and Mathematics Center, and that they witnessed the fire at Rector Hall and the construction of the new Rector Village.

[DOWNLOAD AUDIO: "Changes" 308KB] "But if we have changed a little, the world has changed significantly during your college years. After 9/11 we came to realize what you had previously never thought possible: that America could be attacked on our own soil. Now, as you graduate, we live in a time of war, which is another first for your generation."
Dr. Bottoms told the graduates,

[DOWNLOAD AUDIO: "Navigating Turbulent Waters" 560KB]
"You leave DePauw for a world so radically different from the world you left behind when you were graduated from high school and came to college. It is my hope this day that your college experience at DePauw has helped you develop the skills to navigate some of these turbulent waters -- that as you make the decisions you will be called upon to make in the future, you in-class experiences will have prepared you intellectually to make informed decisions, and that the out-of-class conversations with faculty deepened your understanding and helped you decide what matters to you the most and why."
The event, which was scheduled to take place on the lawn of historic East College,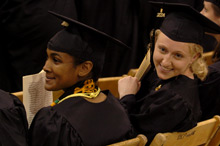 was moved indoors to the Lilly Center because of inclement weather. The decision to move commencement exercises indoors was made at 11 a.m., when a tornado watch was added to a weather forecast that already contained a 50% chance of strong thundershowers and potentially damaging winds. As it happened, a heavy storm did hit the campus about an hour into the program, and thunder could be heard coming from above the roof of the Lilly Center.
Per DePauw tradition, the recipient of the Walker Cup addressed her fellow graduates. The Walker Cup recognizes the senior student judged to have contributed the most to the University during his or her four-year college career. The 2004 recipient, senior Patricia Cooksey, said,

[DOWNLOAD VIDEO: "A Little Piece of DePauw" 554KB]
"Whether it's a DePauw tradition, such as Little 5, Marv's, the Monon Bell game, a Winter Term experience or close friends, we are all taking a little piece of DePauw with us as we leave here today."
Cooksey chaired this month's Putnam County Relay For Life, which raised a record $201,000 for the American Cancer Society (read more here).

[DOWNLOAD AUDIO: "Giving Back" 384KB] "Because DePauw has given each of us so much and made such a difference in our lives, I challenge each of you to give back to the community around you when you leave," she said. "Big or small, we can all make a difference. We have all learned this while at DePauw and all left our mark on this university in some way. And I hope you each remember this and continue to give back, including truly remembering what you have received from DePauw. Give back to ensure future generations can have
a similar experience and continue the great traditions we have here."
Tricia Cooksey urged her classmates to take time on this special day to thank their parents, professors and close friends for their support and encouragement. She cited the 1971 commencement address at DePauw, in which U.S. Congressman Lee Hamilton (a 1952 University graduate who now co-chairs the 9/11 Commission) said, "Hopefully, these have not been the best four years of your life. Hopefully, the best years of your life are yet to come." Cooksey called on the Class of 2004 to "take advantage of every moment.

[DOWNLOAD VIDEO: "A Parting Message" 436KB] I hope your greatest accomplishments are to come. Congratulations... I wish you each the best in all you do."
DePauw awarded 485 Bachelor of Arts degrees and 37 music degrees, and honored
retiring faculty members Underwood Dudley, Professor of Mathematics (1967-2004); Nick Mourouzis, Professor of Kinesiology and Head Football Coach (1981-2003); Amir Rafat, Professor of Political Science (1966-2004); and Edward G. Ypma, Professor of Psychology (1966-2004). Morouzis also delivered the commencement address after bring selected by graduating seniors to be their speaker.
Back