Seventh and Final Building in Rector Village Named Chabraja Hall
July 1, 2004
July 1, 2004, Greencastle, Ind. - When plans were being developed for the new Rector Village, General Dynamics Corporation Chairman and CEO Nick Chabraja was a member of DePauw University's board of trustees. Now he and his family, including all three of his children who attended DePauw, are making a naming gift for the seventh and last residence hall -- Chabraja Hall -- in the new concept for student living at DePauw.
Rector Village is located on the site of the former Rector Hall, which was built in 1917 and damaged beyond repair in a fire on April 7, 2002 (read more here). The new living concept features halls with single occupancy rooms, and students share common living and kitchen spaces on their respective floors.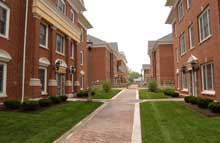 Two of the buildings in Rector Village opened in time for the spring semester, 2004. The other five are ready for occupancy this coming academic year.
"While serving on the board of trustees, I was a member and chair of the Student Affairs Committee. One of the priorities of that committee was the living arrangements for students, and I walked through many of the residential units," Nick Chabraja says. "The concept of replacing a large dormitory with a cluster of smaller, attractive buildings is a good one for students. It's a more modern concept."
All three of Nick and Eleanor Chabraja's children chose to attend DePauw, and all three lived in the East Quad,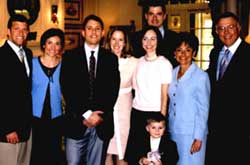 which included Rector Hall. And all three married DePauw graduates. They are: Michael and Lindsey (Hart '97) Chabraja '89, David and Laura (Chabraja '91) Keeler '89, and Eric and Nicole (Chabraja '97) Graham '97. Michael Chabraja serves DePauw as a member of the Board of Visitors. (Chabraja family photo is shown at right)
Nick Chabraja and his family have seen a lot of positive changes at DePauw since his first child began attending in 1985. "We've watched this University grow, and we've watched it become more successful," he said. "We've seen physical changes in the campus that I think are quite extraordinary, and we've watched the faculty grow stronger and have more support for their teaching."
The Chabraja family also has supported DePauw in other ways. All three of the children played varsity tennis at DePauw,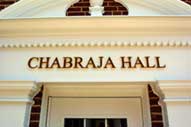 and the family contributed to construction of the Indoor Tennis and Track Center, an award-winning facility available for use by all DePauw students (read more here). They also supported construction of the duplexes on campus, another part of the new concept for student living (read more here and here).
The seven residence halls in Rector Village are now all named. The halls include Chabraja, Holmberg, Leis, Montgomery, Reese, Strasma and Warne. To read more about Rector Village, click here and here.
Back