Rector Village Prepares to Welcome its First Residents
January 9, 2004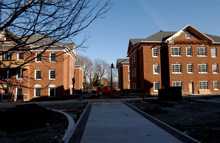 January 9, 2004, Greencastle, Ind. - When DePauw University students return to campus at the end of the month for second semester, some will have even more excitement than what usually accompanies the beginning of a new term. Forty-eight students will become the first residents of Rector Village. As promised, two of the three-story brick townhomes, Warne Hall and the second yet-to-be-named structure, will be ready for occupancy in a few weeks. The remaining five buildings will be completed in time for the beginning of the fall semester.
"I'm confident that students are going to be thrilled with what they see when they move in,"says Dick Speller, vice president for finance and administration at DePauw. "These new units offer private suites and modern amenities, yet have the look and feel of something quite traditional, and fit into the North Quad beautifully. It's been exciting to watch Rector Village
take shape. We're now anxious to get feedback from the first residents."
Rector Village is being erected at the former site of Rector Hall, the 86-year-old dormitory on the DePauw University campus that was gutted by a fire April 7, 2002 (all students escaped safely; read more here and here). All of the rooms will be single occupancy; students will share common living and kitchen spaces with others on their floor. Four of the buildings have been named: Reese Hall (read more here), Holmberg Hall (read more here), Warne Hall (read more here) and Leis Hall (read more here).
"The seventeen duplexes we constructed after the fire at Rector Hall proved to be very popular with students, and they've been buzzing
with excitement for months about Rector Village," says James Lincoln, vice president for student services. "The range of housing options available to DePauw students has never been greater. We're also hearing very positive feedback from prospective students who visit DePauw. They report that our new housing options are among the most attractive they've seen."
Plans for Rector Village were announced on February 5, 2003. Read the original story by clicking here.
Back