Randall Curran '76 Joins FTI Consulting as Senior Managing Director
July 31, 2004
July 31, 2004, Greencastle, Ind. - Randall E. Curran, a 1976 graduate of DePauw University, has joined FTI Consulting, Inc. (NYSE: FCN), as a senior managing director in the corporate finance/restructuring practice. Curran will join the company's interim management services team. FTI is the premier provider of corporate finance/restructuring, forensic and litigation consulting, and economic consulting.
An announcement on Business Wire states, "Curran comes to FTI Consulting with more than 25 years of experience in performance improvement and restructuring, including more than 10 years leading two highly successful turnarounds in the telecommunications and manufacturing industries. While chairman and CEO of ICG Communications, Mr. Curran transformed a company with operating losses averaging $30 million per month into one of the largest and most profitable telecommunications providers in the United States... Before joining ICG, Mr. Curran was chairman, president and CEO of St. Louis-based Thermadyne Holdings Corporation, a $540 million manufacturer of welding equipment ... Curran [also] served as vice president of finance at Clarke Industries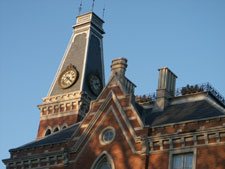 and director of finance at McGraw-Edison Co. Mr. Curran is a CPA with a B.A. in economics from DePauw University and an M.B.A. from Loyola University of Chicago. He will work out of FTI's Denver office."
Read the complete announcement by clicking here. Visit FTI Consulting online here. Randy Curran was named named Denver, Colorado's 2003 "Telecom Executive of the Year" by the Denver Telecom Professionals (DTP). Read more in this previous story.
Back