Record 618 DePauw Students Sign Up for Community Service Agencies
September 8, 1994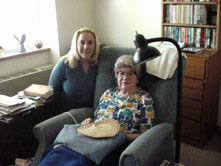 September 8, 1994, Greencastle, Ind. - Nearly one-third of DePauw University's student body plans to give to the community by doing volunteer service for Putnam County agencies during the 1994-95 academic year. A total of 618 students, the most in the 20-year history of the DePauw Community Services program, signed up to be volunteers at the annual community services recruitment fair on Tuesday, September 6, in the Union Building ballroom. That is 168 more student volunteers than the previous high of 450 last year.
Through DePauw Community Services, DePauw students volunteer with 14 Putnam County agencies that provide services ranging from programs for children and the elderly to construction to prison visitation.
Amber Asher, a 1992 Greencastle High School graduate and director of DePauw Community Services this year, said the most popular service choices for students this year are Student Friend, Sports Night and nursing home visitation. Student Friend matches DePauw students with elementary students at Ridpath, Jones and Tzouanakis schools in Greencastle as well as North and South Putnam schools. Sports Night provides community children with various activities and games at the Lilly Physical Education and Recreation Center on one Friday night per month.
A junior at DePauw, Asher said that the DePauw Community Services program is a good way for university students to become involved in the community and at the same time broaden their educations. She is in her third year of volunteering at Heritage House nursing home. "Why I volunteer is go give something back to the community," Asher said. "It's more than worth it to me to know that donating a couple hours of my time each week makes someone else's life a little better."
Asher and the DCS staff extended their thanks to all the DePauw students who are making this a record-setting year for community service in Putnam County.
Other DCS officers are junior Andy Roberts of Mishawaka, Ind., assistant director for registration; junior Eric Fotsch of St. Paul, Minn., assistant director for public relations; and junior Janet Benson of Cedar Lake, Ind., secretary. Stuart Lord, director of volunteer service programs at DePauw, also expressed his thanks to all the student volunteers.
Back