Prof. Anne Reynolds Presents Flute Recital Monday Night
September 30, 2004
September 30, 2004, Greencastle, Ind. - Anne Reynolds, adjunct professor in the DePauw University School of Music and principal flutist of the Indianapolis Chamber Orchestra, will perform a faculty flute recital focusing on adventuresome twentieth-century and contemporary music, Monday, October 4, at 7:30 p.m. in the Performing Arts Center's Thompson Recital Hall. The concert, which is free and open to the public, will feature works by French composers Pierre Sancan and Olivier Messiaen as well as pieces by American Jennifer Higdon and Brazilian Heitor Villa-Lobos.
Joining Reynolds for this recital will be DePauw School of Music faculty members Kara Webb, bassoon, and Claude Cymerman, piano. Their participation in this event highlights the program's diversity, which will present pieces for solo flute, flute and piano, as well as flute and bassoon. This last combination will be evident on an arrangement of Heitor Villa-Lobos' Bachianas Brasileiras No. 6, an homage to Johann Sebastian Bach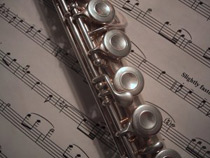 from the Brazilian composer's most famous and popular collection.
Another notable selection is the program's final work, Messiaen's Le Merle Noir. Written in 1951 for flute and piano, the piece is one example of Messiaen's unique birdsong compositions. Messiaen crafted these pieces meticulously so as to accurately imitate natural birdcalls, which he believed to be symbolic and imbued with tremendous religious import.
Visit the DePauw School of Music online by clicking here.
Back