DePauw Ranked #3 "Most Connected" US College by Forbes.com/Princeton Review
October 22, 2004
October 22, 2004, Greencastle, Ind. - DePauw is the third "most wired" college or university campus in the United States, according to the Princeton Review's "Top 25 Most Connected Campuses." The second annual list was made public this morning at Forbes.com. The report analyzes and ranks the technology on 357 college campuses. DePauw ranked #279 last year.
"This is wonderful affirmation that DePauw University is uniquely positioned as a traditional, national liberal arts college that is providing its students and faculty with the means to learn, teach and live with the technologies that are changing our world," says DePauw President Robert G. Bottoms. "I've often said that our facilities match or exceed those at the largest colleges in the nation, and this report bears that out. The opportunities for learning at DePauw have never been greater."
To identify the colleges on the list, the Princeton Review
collected responses from the colleges to a survey on computing capabilities. Criteria included the ratio of school-owned computers accessible to students; the breadth of the computer science curriculum; and the sophistication of campus technology, including streaming media of classes and extracurricular offerings; availability of school-owned digital cameras and equipment for student use; wireless Internet access on campus, and support for handheld computing.
Topping this year's list is Rensselaer Polytechnic Institute (RPI), whose capabilities include wireless Internet access; WebCT -- a campus-wide tool for faculty and students; and outreach into new areas such as bioinformatics and experimental multimedia in the arts. The Top 5 are:
Rensselaer Polytechnic Institute (RPI)
Bryant University
DePauw University
Temple University
University of North Carolina-Chapel Hill
"This is an exceptional honor for DePauw University," says Dennis Trinkle, chief information officer and a 1991 graduate of DePauw. "It demonstrates clearly the growing national recognition that DePauw's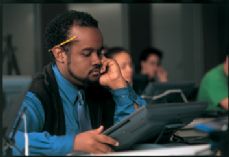 technology initiatives are achieving great success and impact. The tremendous efforts and collaboration of students, faculty, and staff are making DePauw a national model for how to prepare students for the digital age. The bottom line is that this report affirms our students are receiving preparation for life and life's work that is unparalleled and which will serve them very well. That's something well worth celebrating."
"High tech has become an integral part of the students' experience -- whether it enhances their academics, their entertainment or their ability to communicate," says Robert Franek, editorial director, the Princeton Review. "Each year we find the bar raised higher and higher as students' consider a sophisticated computing environment central to their college experience. These students also know that honing their tech skills in college can be crucial in their job searches and careers after college."
"We are pleased to exclusively offer the complete list of data on the computing capabilities of all 357 connected campuses on Forbes.com," said Michael Noer, executive
editor, news, of Forbes.com, "and we're amazed at how much the list can change in just one year, depending on the initiatives and priorities of the colleges. Even if your school didn't make the Top 25, you can find out how it stacks up on our site."
To learn more about the "most connected campuses," click here to visit Forbes.com and here to see complete profiles of each school at the Princeton Review's Web site.
In February 2001, DePauw University received a $20-million grant from Lilly Endowment to establish a national technology center and launch a series of initiatives to guarantee that the university's 2,350 students, faculty, and staff will be equipped to provide the creativity and leadership required by the digital age. The name of the resulting model -- 361° -- refers to DePauw's goal that these initiatives will prepare students for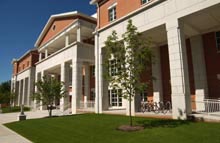 every degree of life and for creating the future. DePauw's efforts reinforce the institutional emphasis on critical thinking, problem-solving, interpretation, learning through experience, and learning through reflection. In this context, information technologies are integrated into curricular and co-curricular activities as a liberal art rather than in a skill-based approach, and IT tools are used as a scaffolding for discussion.
In August 2003, DePauw received the 2003 EDUCAUSE Award for Systemic Progress in Teaching and Learning for its 361° Initiatives. One of six EDUCAUSE Awards for leadership and innovative use of technology in higher education, the EDUCAUSE Award for Systemic Progress in Teaching and Learning had never before been presented to a university or college that is not a doctoral/research institution (read more here).
Also in 2003, the New Media Consortium (NMC) named DePauw a New
Media Center (read more here), one of only about 125 institutions worldwide to receive the designation. And DePauw was among three Indiana colleges and universities to receive a Mira Award for 361°'s "excellence in the delivery or use of technology to further learning and educational achievement" (read more here).
Earlier this month, 361° was recognized with two national awards from the Association of Computing Machinery - Special Interest Group on University and College Computing Services (ACM - SIGGUS). The deemed the 361° Web site, and a video created to promote 361° programs, as the best of their kind in the USA (read more here).
Beginning in the fall of 2005, DePauw students will be required to come to
campus with a laptop computer, and the University has worked out special programs for students to purchase the devices at a discount (read more here). And a recent announcement that the Greencastle area will be getting broadband Internet access and other high-tech communication services (read more here; DePauw already has high-speed Web access) should bring new internship opportunities and other advantages to the campus community, Trinkle says. Technology with DePauw roots, which allows professors and students to instantly share information and idea, is now being implemented in colleges across the nation by Dynamic Knowledge Transfer, LLC (read more here and here).
Princeton Review's annual publication, The Best 357 Colleges: 2005 Edition, ranks DePauw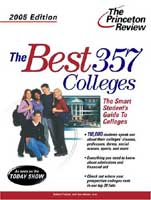 University's campus activities, social climate and student-run radio station as among the nation's best. The unscientific, random survey of more than 110,000 students at the nation's top colleges ranks DePauw as #1 in "major frat and sorority scene"; it lists WGRE as the #6 college radio station in the country; and DePauw is #12 for "more to do on campus".
The guide, which was released in August and is available at bookstores nationwide, also notes that DePauw is highly selective in admitting students, and gives DePauw an academic rating of 97 (based, according to the Review, on "how hard students work at each school and how much they get back from their efforts"; rated on a scale of 60-100 with 100 being best). By comparison,

Massachusetts Institute of Technology, ranked "toughest to get into" in this year's book, has a 94 score. DePauw earns a financial aid rating of 98, a 97 for the strength of its admissions, and a quality of life score of 90. Read more by clicking here.
U.S. News & World Report ranks DePauw in the top tier of national liberal arts colleges, and DePauw's first-year experience -- depauw.year1 -- is cited as a "program to look for." Learn more here.
Back