Newspaper Profile of Tim Collins '78 Includes Perspectives of Classmate and Favorite Professor
June 6, 2005
June 6, 2005, Greencastle, Ind. - Timothy C. Collins, senior managing director, CEO and founder of Ripplewood Holdings LLC and 1978 graduate of DePauw University, "is a mix of diverse parts, a billionaire friend of former President Bill Clinton grounded in family and service as much as, or more than, business," writes G. Patrick Kelley in Ohio's Canton Repository. The lengthy article profiles Collins, whose firm's recently announced intention to acquire Maytag made headlines, and includes analysis from the CEO's favorite professor at DePauw and a good friend and Phi Delta Theta fraternity brother.
Collins "stunned investors last year by taking one of his private funds -- RHJ International -- public through the stock exchange in Brussels. He used money from the RHJ public offering to buy a failing bank and make it profitable in Japan, a country that often balks at foreign ownership," writes Kelley. "He flies to Japan about twice a month to look at businesses and strengthen or make new contacts. Back at home, he takes philosophy classes at New York University. He has a master's degree in management from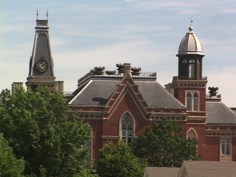 Yale University School of Management. He earned his undergraduate degree in philosophy at a liberal arts college, DePauw University in Greencastle, Ind."
The article notes that Ripplewood, which "has managed companies with an enterprise value of more than $12 billion," is only part of what Tim Collins does. "In 1988, he took a month away from business to work at a Sudanese refugee camp ... He's also involved in Yaddo, a 400-acre artists' community in Saratoga Springs, N.Y.; the Lenox Hill Neighborhood House to help needy people on Manhattan's East Side, and Trout Unlimited, a nonprofit organization to conserve, protect and restore North America's trout and salmon fisheries and watersheds. And he's on the United Board for Christian Higher Education in Asia."
"'They're breaking ground. They're setting trends,' said Collins' DePauw classmate and fraternity pledge brother Robert Apatoff ['80], CEO of Rand McNally [seen below left]. The two have stayed close since Collins graduated from DePauw in 1978. 'I enjoy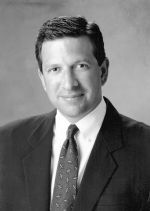 talking with him and reading about the things he's accomplished,' Apatoff said. 'I'm not surprised at his success.'"
The story continues, "Apatoff isn't the only one who marked Collins during his college days. Retired philosophy professor Roger Gustavsson (Collins' favorite professor) remembers him as a 'very interesting' and 'courageous' student. 'He was not intimidated by fancy language,' Gustavsson said. 'He was not intimidated by authority.' Nor was he intimidated by hard work. 'For his senior paper, he took on a very challenging, very difficult problem,' Gustavsson said, 'one that people would not associate with practical concerns.' Collins tackled the centuries-old problem of universals. 'That is a measure of his intellectual courage,' Gustavsson said."
Kelley provides several other quotes from Apatoff and Gustavsson, and reiterates, "Collins took a month in 1988 to work at a Sudanese refugee camp. He won't talk about it, and neither will Apatoff, but Collins' mission work continues, and he's teaching his sons about giving back. 'It's a big part of his life,' Apatoff said. 'He puts his time and his own money behind it, and he doesn't make a big deal out of it, which is a measure of a man.'" Collins is a product of his background and his makeup, and that's why he has degrees in philosophy and business, Apatoff said. Rather than a paradox, Apatoff sees the two sides of Collins as complementary. 'It was clear that Tim had all the business and traditional smarts that you get in college,' he said. 'The added dimension was the reason he was a philosophy major. It's just the way he looks at life. He's very curious -- he looks at things with an added dimension that others often don't'... Apatoff said Collins is a business man, but
he understands family, and he understands life. 'He understands business, but that other side grounds him.'"
Access the complete article (a free registration is required) at the newspaper's Web site.
Collins himself is quoted in this new Associated Press story.
Tim Collins received an honorary degree at DePauw's 166th Annual Commencement, May 22. Access a video clip from the event in this previous story.
Back