Senior Interning with NBC "Having a Once-in-a-Lifetime Experience at the Winter Olympics," Reports TV Station
February 21, 2006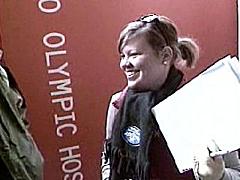 February 21, 2006, Greencastle, Ind. - "I'll never forget it," DePauw University senior Kate Billman says of her experience working for NBC's Today Show in Torino, Italy this month. In a profile aired on Indianapolis affiliate WTHR, Billman says, "I've seen medal ceremonies... I've met some snowboarders, I've met some speed skaters. Every athlete that comes in here has been really cool, really down to earth."
Video of Billman being interviewed by Dave Calabro is posted at the station's Web site (click here and go to item headlined "Speedway woman interning for Today Show in Torino").
A story posted at WTHR.com notes, "Kate Billman is the gatekeeper for NBC's morning crew. She checks everyone's credentials before going

onto the television set. She gets to meet some high-profile people. Billman is a student at DePauw University and she's having a once-in-a-lifetime experience at the Winter Olympics... Billman will have plenty of stories and pictures to share with her family members who live in Avon as well as Speedway."
Read more about the Olympic experiences of Billman, who is a Media Fellow at DePauw, here.

Kate Billman and other DePauw students created a documentary, Putnam County's Newest Nightmare: The Methamphetamine Epidemic, and she had an op-ed published in the Indianapolis Star in December.
DePauw senior Amy Wilcox (seen at left) is also assisting NBC with its Winter Olympics coverage. Read about her involvement in this previous story.
Back