DePauw Reaches Quarterfinals of National Ethics Bowl
March 15, 2006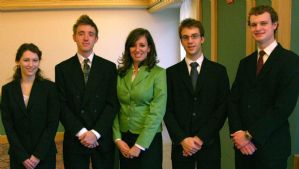 March 15, 2006, Greencastle, Ind. - DePauw University's five-student team in the National Ethics Bowl finished among the top 8 squads in this year's field of 40, reaching the quarterfinals -- a first. The competition was held March 2 in Jacksonville Florida, at the annual conference of the Association for Practical and Profession Ethics.
DePauw's team -- composed of Jaclyn Harr, Mike Schmidt, Shelby Sleight, Nick Casalbore, and Dan Story (seen left to right in photo at top) -- defeated Concordia, tied Texas State, and prevailed over Western Michigan before losing in the quarterfinal round to Union College. Union eventually faced West Point in the finals, with the latter institution winning the competition.
"The DePauw team performed spectacularly," says Marcia McKelligan, professor of philosophy and co-coach (along with professor of philosophy Bob Newton) of the Ethics Bowl teams. "We learned that we can be competitive with the very best in the nation.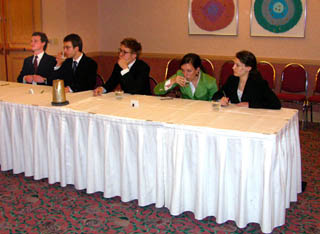 With four of the five team members returning, we look forward to a very successful performance at next fall's regional competition in Indianapolis and at the nationals in Cincinnati in 2007."
"Other than the performance in the competition in Jacksonville, what amazed me most was the amount of time and effort the team put into preparation," adds Dr. Newton. "In addition to meeting with us as coaches, the team members worked in pairs on their assigned cases and as a team alone. I asked one of them how many hours they had put into research, identification of issues, and anticipation of possible questions. I heard the numbers 40, 60, 80! But of course no one had a real count. We were up with the best of the teams, and it's my view that any of the teams in the quarterfinals could have made it to the championship."
The National Ethics Bowl, a day-long competition, gives students the task of viewing difficult situations from a variety of perspectives. The forty participating teams are given fifteen complex ethical and policy cases to study
in advance of the competition, though they are not told what questions they will be asked about any case. For each match, one team is required to present a view on a case and then respond to questions from the opposing team and judges. Then the roles are reversed, and the opposing team presents an argument surrounding a case, after which they respond to questions. Teams are evaluated at the end of each match for the quality of their arguments, responses, and counter-responses. The top eight teams advance to the quarterfinals.
On September 16, DePauw announced plans to create the Janet Prindle Institute for Ethics. Read more in this previous story.
Back