General Motors CEO Addresses 556 Graduates at DePauw's 137th Annual Commencement
May 23, 1976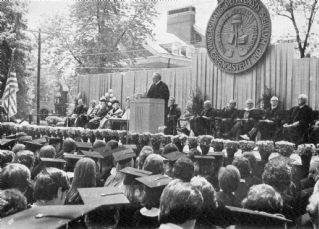 May 23, 1976, Greencastle, Ind. - "We couldn't do without our DePauws," said Thomas A. Murphy, chairman of the board and chief executive officer of General Motors Corporation, as he addressed DePauw's Class of 1976 today. Chancellor William Kerstetter and Acting President Thomas Binford presided as a total of 556 graduate and undergraduate degrees were awarded under sunny skies and pleasant temperatures on East College lawn.
"As I see it, the main function of the private college or university in America is to provide an alternative -- of the highest quality -- within our educational system," Murphy told the graduates. "Our privately supported schools are an indispensable element in our total educational picture, and all Hoosiers should glory in the fact that DePauw University exists -- and that it contributes so importantly to the quality of life and education in this state, in this community and in our country."
Murphy was awarded an honorary Doctor of Laws degree. Others receiving honorary degrees were:
Harry P. Gough '29, vice president for public affairs of the Illinois Consolidated Telephone Company; Doctor of Laws.
Dr. Robert H. Shaffer '36, professor of education and business administration and chairman of the department of higher education at Indiana University; Doctor of Laws.
Robert Watts Thornburgh '48, associate general secretary, Division of Ordained Ministry, Board of Higher Education, United Methodist Church; Doctor of Divinity.
Rev. Thomas Weigand, pastor of the Hammond, Indiana United Methodist Church; Doctor of Divinity.
Barbara Yuncker '43, medicine-science editor of the New York Post; Doctor of Literature.
GM's Murphy asked, "What is this thing we call America, anyway? Of all the nations of the world and of history, what does America have to offer posterity that others have not offered? It certainly is not air conditioning, or space exploration, or mile-long shopping centers, or even automobiles, impressive as all these may seem. Rather, it is our success in making freedom work in a highly complex, racially diverse, pluralistic society. That was, is, and always will be the great American contribution to history," he told the Class of 1976. "It is our most profound achievement."
Back