495 Degrees Awarded at DePauw's 136th Commencement
June 1, 1975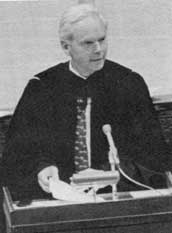 June 1, 1975, Greencastle, Ind. - "If we care about the future of mankind -- and we do -- let us be careful that we not destroy our institutions and our way of life, imperfect though it is, as we try to build a better society," John H. Filer '47 told more than 3,000 people who gathered today for DePauw University's 136th Commencement. Filer, chairman of the board and chief executive officer of Aetna Life and Casualty Company, provided the address as 495 degrees were awarded: 407 bachelor of arts and 88 master of arts. The ceremony was moved indoors to Bowman Gymnasium at the last moment due to a heavy downpour.
"Consider, if you will, that the recognition of an unsolved problem is not necessarily the recognition of failure, but just may be the necessary first step to eventual success," Filer stated. "As intelligent, educated people you have an enormous opportunity to bring balanced judgment and comment to the world rather than just the shouting of a zealot."
Filer earned a law degree from Yale University and was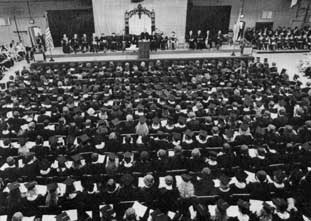 awarded an honorary Doctor of Laws degree by DePauw in 1970. In 1973, Filer was asked by President Richard Nixon to head the Commission on Private Philanthropy and Public Needs to study the role of philanthropy in the United States.
Receiving honorary degrees at today's ceremony were: John M. Buchanan '38, Wilson Professor of Biochemistry at the Massachusetts Institute of Technology, Doctor of Science; Rev. Robert Holmes, Indiana Methodist Minister, Doctor of Divinity; and Harold H. Negley '44, Indiana State Superintendent of Public Instruction, Doctor of Laws.
Back