Al Hubbard's Comments on Energy Get More Play, Including in Thomas Friedman's NY Times Column
January 20, 2007
Also: Allan B. Hubbard's October 27 Appearance at DePauw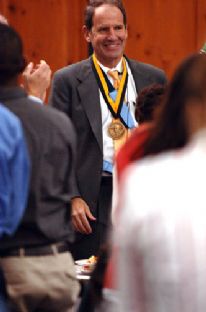 January 20, 2007, Greencastle, Ind. - "Even the White House seems to have noticed... things in nature that I've never seen in my life, like daffodils blooming in January," writes Thomas Friedman in his nationally syndicated New York Times column. "Al Hubbard, the President's economic adviser, says Bush will soon unveil an energy independence strategy that will produce 'headlines above the fold that will knock your socks off.' Since everything the President has done on energy has left my socks firmly in place, I will be eager to hear what Bush says."
The comments that Friedman refers to -- and which were the subject of a recent story in the UK's Financial Times -- were made by Hubbard during his October 27 presentation at DePauw Discourse 2006: Issues for America. Access an audio clip here:
[Download Audio: "Future Policy" - 124kb]. (top photo shows Hubbard receiving the Robert C. McDermond Medal for Excellence in Entrepreneurship)
Allan Hubbard's remarks also appear in stories and op-eds in the Washington Post, Investor's Business Daily and the Associated Press.
Friedman's column calls for the creation of a"Green New Deal." He writes, "The New Deal was not built on a magic bullet, but on a broad range of programs and industrial projects to revitalize America. Ditto for an energy New Deal. If we are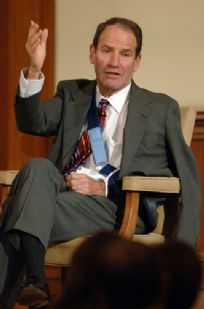 to turn the tide on climate change and end our oil addiction, we need more of everything: solar, wind, hydro, ethanol, biodiesel, clean coal and nuclear power -- and conservation."
Playing off Hubbard's comments, Friedman concludes by stating, "This isn't rocket science. So when the President unveils his energy proposals, if they don't call for higher efficiency standards and higher prices for fossil fuels -- take your socks off yourself. It's going to get hot around here."
Read the complete column at the Web site of New York's Albany Times Union.
Access a lengthy account of Hubbard's DePauw appearance -- including audio and video clips -- in this previous article. An extended video of the session is available, courtesy of Twelve Oakes Media and QuickStream.tv, by clicking here.
Back