Mary Helt Gavin '69 Receives 2007 Studs Terkel Award
May 4, 2007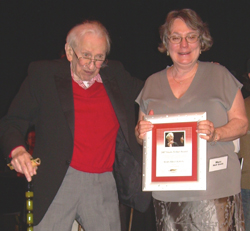 May 4, 2007, Greencastle, Ind. - Mary Helt Gavin, founder and publisher of the RoundTable of Evanston, Illinois, and 1969 graduate of DePauw University, is the recipient of a 2007 Studs Terkel Award. Gavin was honored for providing "a platform for a voice of the voiceless." She was one of three 2007 winners honored at the Chicago Cultural Center. (at left: Gavin with Studs Terkel)
Presented by the Columbia College-based Community Media Workshop, the Studs Terkel Awards honor journalists for going the extra mile in sourcing stories and thoughtful treatment of context. They also recognize journalists and news outlets that document communities and raise up the voices of ordinary people in the tradition of Terkel, a prize-winning author of a dozen books that feature the
voices of "ordinary folks." The awards recognize a body of work rather than a single article or series.
The Community Media Workshop noted that while Gavin may be unusually retiring for a newspaper publisher, she takes her newspaper very seriously. The presenters also suggested that more publishers should investigate Gavin's model, because Evanston residents and community leaders praise her paper's meaningful community coverage.
"Mary listens really well, and she hears what you are saying," says Evanston alderman Delores Holmes. The paper has "that Evanston flavor" -- a small-town feel despite its urban setting, Holmes added.
The twice-monthly RoundTable just celebrated its ninth anniversary, and has grown from 16 pages to 40. Gavin hopes to publish the paper weekly in the near future.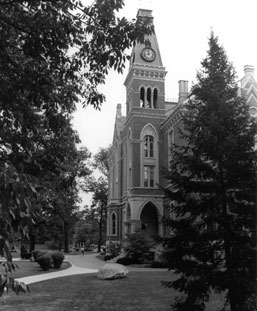 The paper "strives to focus on the city's ideas and organizations," and rarely covers crime," says Gavin. "When there are stories that are very painful for the community, we don't say this person is right, this person is wrong. We say these people are working on a solution."
"We were impressed with the depth and breadth of the coverage of communities that we found at papers like Mary Gavin's Evanston RoundTable, said Thom Clark, president of the Community Media Workshop, which works with Terkel to select the award winners. Mary Johns, a 2006 Terkel Award winner, who presented the award to Gavin, praised her for "working hard to provide news to the common people."
After receiving a B.A. degree in Greek at DePauw, Gavin earned a Ph.D. in Greek and Roman classics and J.D. from DePaul University.
Access the Evanston RoundTable online by clicking here.
Back