Bob Steele '69 and Bill Welch '40 Awarded Honorary Degrees
May 20, 2007
Also: Karen Koning AbuZayd '63 Urges Graduates to "Take Up the Challenge"; 514 Graduates Urged to "Do Justice to Four Years of Dialogue"; View Commencement Photo Gallery; Order Your Commencement DVD
May 20, 2007, Greencastle, Ind. -

[Download Video: "Robert M. Steele '69" - 2111kb] "There is no doubt that journalism has its flaws, journalists have their failures, and part of my role as a journalism ethicist at the Poynter Institute is to examine our craft, our profession, our business and our industry, and shine the light of scrutiny when we don't measure up," Robert M. Steele said at this afternoon's 168th annual commencement. Steele -- Nelson Poynter Scholar for Journalism Values and Senior Faculty, Ethics, at the Poynter Institute for Media Studies and 1969 graduate of DePauw University -- joined William F. Welch '40 in receiving an honorary degree during today's ceremony.
"But it's just as important that we recognize how essential journalism is in our society and how often journalists do measure up very well," Steele continued. "For every shortcoming in journalism, there is a strong point in the unique role that journalism plays in our democracy -- helping citizens carry out the beauty of self-government. For every stumble by a journalist there are examples of remarkable reporting on significant issues and events in our society," he added.
The ethicist, who received a Doctor of Journalism degree,also took
time to note, "DePauw has no major in journalism, but dozens of our graduates have gone on to exemplary careers as journalists, and I accept this honorary degree today with great respect for them and their contributions." Steele added, "I hope that some of you in the Class of 2007 become the journalists of the next generation.
Bob Steele also pointed out that his uncle, noted psychiatrist Brandt F. Steele, received an honorary Doctor of Science degree from DePauw in 1986. "Uncle Brandt was one of my role models, and I'm thrilled to join him in receiving this mark of distinction."
Recalling his graduation day from DePauw, Bill Welch told graduates, "The world has changed in many ways since 1940, technologically for certain. And yet, in many ways it is much the same."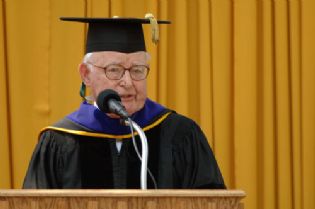 Welch recalled that as he and his classmates received their DePauw diplomas, France fell to Germany and Adolf Hitler's reach was expanding. The world was on edge.
Today, with war continuing in Iraq and other trouble spots around the globe, graduates enter another uneasy period in history.

[Download Video: "William F. Welch '40" - 2320kb] "But I have great confidence that in the months and years ahead, in God's good grace -- sometimes with help from other nations, sometimes without that help -- you will work it out. As a matter of fact, the whole world depends upon you to do so. So, be not afraid, do not despair. And in the darkest hours, when the problems seem insurmountable and the light of dawn seems slow to come, as one writer has put it, 'Trust in the Lord, he's up all night.'"
Under sunny, blue skies that greeted the ceremony on East College lawn, DePauw also honored two retiring faculty members, "who represent 75 years of teaching at DePauw," as President Robert G. Bottoms noted:
James S. Rambo (1966-2007), Laurel H. Turk Professor of Modern Languages (Spanish and Portuguese)
Carl P. Singer (1973-2007), professor of computer science
The keynote address to the Class of 2007 was provided by Karen Koning AbuZayd, commissioner-general of the United Nations Relief and Works Agency (UNRWA) and 1963 graduate of DePauw. AbuZayd also received the McNaughton Medal for Public Service.
A summary of the speech to graduates by Elisabeth W. "Bess" Evans '07, the recipient of the Walker Cup, can be accessed here.
For more information on DePauw's 168th annual commencement, click here. Order a DVD -- which will include a multi-camera shoot of the entire ceremony and will be replicated by Sony Disc Manufacturing -- here.
Back