Survey Ranks DePauw with Ivy League Institutions
January 9, 1958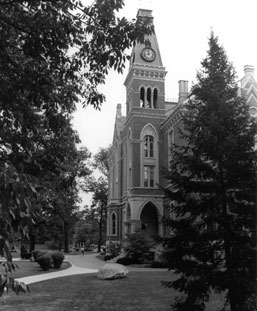 January 9, 1958, Greencastle, Ind. - One of Indiana's oldest institutions, DePauw University, has been ranked with the Ivy League schools in a new survey by the Educational Records Bureau, New York City. According to Arthur E. Traxler, executive director of the bureau, rankings were based on the percentage of male graduates listed in Who's Who. The survey showed that five smaller Eastern colleges actually topped the Ivy League and that 13 so-called "non-Eastern independents" were close behind.
Among the top non-Eastern schools were DePauw, Oberlin College, Park College, Carleton College, Reed College, Knox College, Wooster College, Lawrence College, and Occidental College.
The group of Eastern colleges which had a median index number below the Ivy League median included Amherst, Williams, Wesleyan, Swarthmore, and Hamilton.
The index number indicates how many graduates each school produces to provide one graduate who appears in Who's Who. The survey involved 302 colleges and identified 67 with index numbers below 100.
At a recent meeting of the American Association for the Advancement of Science, Traxler commented on the "extreme pressure for admission upon Eastern independent colleges and universities" and suggested that other colleges are "about equally good." In view of this, he said, "able secondary school students and their parents might consider a larger number of colleges and distribute their applications more widely among colleges throughout the United States."
Back