1933 Team Remembers "Second Father" as Members Reunite 50 Years After Making History
October 7, 1983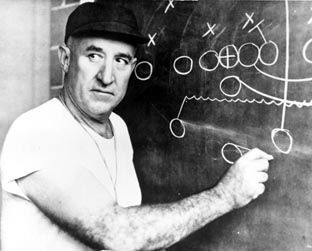 October 7, 1983, Greencastle, Ind. - In 1933, the DePauw University football team was undefeated, untied and unscored upon. As 27 survivors and two widows of that famous team assemble this weekend for their 50th reunion, in many respects they still are," writes David Knight in today's Indianapolis Star.
"No one member of the team embodied [the] resources of heart and spirit more than Raymond 'Gaumey' Neal, who died of lung cancer in 1977," the story continues. "Neal, who was raised in Wingate, Ind., and played for Washington and Jefferson in the 1922 Rose Bowl, probably would be investigated today by the NCAA" for the many good deeds he did on behalf of his student-athletes during the Great Depression.
Chet Elson '36, who is described by the Star as a "millionaire insurance agent,"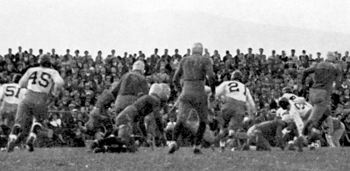 tells the newspaper, "I came to DePauw and had $7 in my pocket. I can honestly say I would never have been able to finish school had it not been for his personal interest in me. He fed me when I was hungry, housed me when I had no place to stay and helped me when I had no money."
George Lortz '34 recalls, "Gaumey might say to a guy like Chet who was broke, 'Look, Chet, how about coming over and mowing my lawn for me? How about coming over and doing this or that?' We didn't have scholarships but everybody played for fun. Gaumey was like a second father to us all."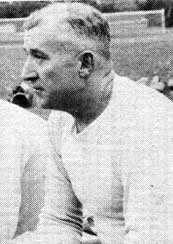 Knight notes, "Neal's 1932-34 DePauw teams put together a string of 13 straight games they were unscored on. The 1932 club tied Wabash, 0-0, in the final game of the season and the first Wabash-DePauw games played for the Monon Bell. The 1934 squad won its first five games by shutout before crushing Georgetown, 49-6.
The article mentions the efforts of the Class of 1933 to raise several million dollars for DePauw's new physical education and recreation center, and talks of Gaumey Neal's coaching style.
"Neal was fresh off the farm, no histrionics," says Lortz. "He was a tough loser. He hated to lose more than any guy I've known. But he didn't believe that winning was everything."
The Reverend Robert Fribley '35 adds, "Neal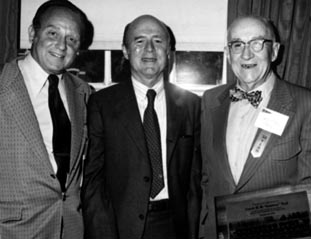 was an excellent strategist who knew people and how to get the best out of them. When you play on a team like that was, you learn not to doze off and keep fit both mentally and physically. Isn't that how you succeed in life?"
Ten years ago, Coach Neal and his former players were honored at a special Old Gold Day luncheon marking the 40th anniversary of their historic season.
A "Monon Memory" of the Tigers' perfect 1933 season can be accessed here:

[Download Video: "1933 Monon Memory" - 6722kb].
Back