Food Issues "Just Exploding," Barbara Kingsolver '77 Tells Boston Globe
June 12, 2007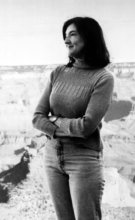 June 12, 2007, Greencastle, Ind. - Barbara Kingsolver, author of Animal, Vegetable, Miracle: A Year of Food Life and 1977 graduate of DePauw University, "says she's astonished at the book's reception," reports the Boston Globe. "Her publisher had just told her that Animal, Vegetable, Miracle is the third best-selling book in the country," writes Alison Arnett.
"That really rocks my sense of who we are as a nation," Kingsolver tells the newspaper. "This issue is just exploding. After a couple of generations of -- what would you call it: cultural amnesia, maybe? -- we're learning to connect (with food)."
Kingsolver's new book -- co-authored by her husband, Steven L. Hopp, and their oldest daughter, Camille Kingsolver -- details their experiences after they resolved to "eat local" for a year.
Arnett writes, "Probably the most challenging aspect for some readers is the 'animal' part of the book. Kingsolver was determined not only to grow poultry -- she didn't allow her daughter Lily, then a third-grader, to name the birds -- but also to slaughter them on the farm. On tour, people want to know whether the family really killed their own chickens. Kingsolver writes
unflinchingly about having to kill their own food. 'I believe we must have conveyed our genuine concern and even affection for our animals,' she says. Before the year, they had already stopped eating commercially raised animals. 'It's news to a lot of people,' she says, that it's possible to find meat from animals that have had honorable, decent lives.
With the book completed and a bestseller, just like Kingsolver's novels such as The Poisonwood Bible and The Bean Trees, is the experiment over? "No, we just kept on going," Kingsolver tells the Globe which adds, "She says this as spring is turning to summer and the harvest is ahead."
Read the complete text by clicking here.
Barbara Kingsolver is featured in the latest issue of Plenty magazine. Learn more in this previous story.
Back