DePauw Joins Annapolis Group Peers in Quest to Deliver Better Information to Prospective Students and Parents
June 20, 2007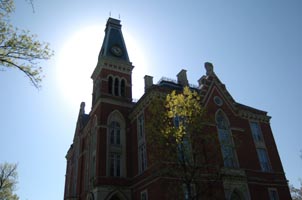 June 20, 2007, Greencastle, Ind. - DePauw University is joining peer institutions in the Annapolis Group in deciding to no longer complete the reputational survey used in U.S. News & World Report's rankings exercise and will no longer promote its showing in the magazine's annual listing of America's top colleges and universities on the University Web site and in DePauw publications.
The Annapolis Group, of which DePauw is a member, brings together the leading national independent liberal arts colleges. At its annual June meeting yesterday, "the organization released a statement that said a majority of the 80 presidents attending had 'expressed their intent not to participate in the annual U.S. News survey,'" writes Alan Finder in today's New York Times. "The commitment, which some college presidents said was made by a large majority of participants, represents the most significant challenge yet to the rankings, adding colleges like Barnard, Sarah Lawrence and Kenyon to a growing rebellion against the magazine, participants said."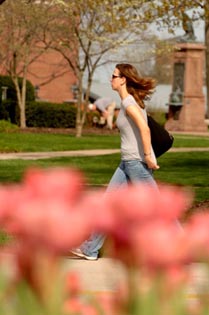 A full 25% of each school's score is based upon their reputation as viewed by other college presidents. That, many argue, makes the process a "beauty contest," and many presidents readily admit they are not sufficiently familiar with what is happening on other campuses to make informed judgments on them.
"While we have certainly benefited -- from a public perspective -- as a result of our ranking, and we welcome outside scrutiny and feedback, I agree with my peers that the U.S. News system does not provide reliable data for prospective students and their parents," says DePauw President Robert G. Bottoms. "DePauw provides a unique experience, one that can't be boiled down to a single number. The U.S. News methodology doesn't take into account many of the things that continue to make DePauw distinctive. For example, our work to internationalize the University, the fact that we're a more diverse institution and the way we've been able to integrate technology into our liberal arts pedagogy have made DePauw a better school, but can't be measured by this instrument."
Dr. Bottoms adds, "I, in fact, did not fill out the reputational survey for this past year. I came to the conclusion that I am not in a position to make judgments on other schools, many of which I have little or no familiarity with. The fact that one quarter of a college's ranking is based upon what is, in essence, its popularity, is very disturbing and we choose not to be a part of the process."
Per University policy, DePauw will continue to share data with
U.S. News and other outside organizations as it is requested.
At its meeting, the Annapolis Group "also said it would work with other organizations to develop a Web-based alternative to rankings that would provide parents and students with meaningful ways to compare schools," reports USA Today's Mary Beth Marklein.
"This is an ettempt to get better, quantifiable data in the hands of people who are trying to make one of life's most difficult decisions: where they will attend college," asserts President Bottoms. "The information will be free and easy to use and, we think, will provide a way to better help individual students find and select schools that meet their particular individual needs."
USA Today's Marklein notes, "College presidents have been complaining for years that the rankings are flawed, but momentum has been building in recent years as more critics step forward to challenge the value of the magazine's annual feature. Complaints generally center on concern that rankings unfairly boil an institution down to a single number that obscures its uniqueness and that the rankings process encourages colleges to waste valuable resources as they try to game the system."
Read more in today's New York Times, USA Today, CNN and Inside Higher Ed.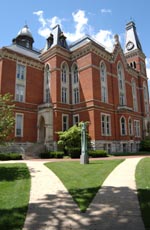 A May 25 article in the Chronicle of Higher Education reported on how some colleges have actually made rising in the national rankings an institutional priority. "In some ways, U.S. News has become the tail that wags the dog," stated the article. "The magazine's annual college guide does not merely compile data on what colleges are doing. It has changed the way many college officials determine their institutional priorities."
The same piece noted, "A Chronicle analysis of U.S. News data from the past 24 years reveals that the rankings game does not provide a level playing field for all contestants." It adds, "higher-education researchers have often pointed out that U.S. News is inordinately focused on 'input measures,' such as student selectivity, faculty-student ratio, and average retention of freshmen, and financial measures, like financial resources per student, alumni-giving rate, and faculty salaries. At the same time, it does not emphasize 'outcome' measures, such as whether a student comes out prepared to enter the work force."
Read more by clicking here.
Back