486 Receive Diplomas, Hear from HHS Secretary Otis Bowen
May 21, 1988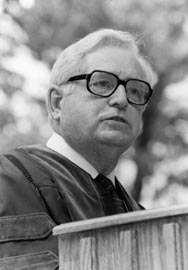 May 21, 1988, Greencastle, Ind. - Never underestimate the importance of personal and professional decisions, America's Secretary of Health and Human Services, Otis R. Bowen, told DePauw University's Class of 1988 today. The graduating class, 486 strong, received their diplomas today under warm, sunny skies.
"There are few trivial or unimportant decisions," Dr. Bowen, the former governor of Indiana, declared. "Rather, the vast majority of what we say, think and do affects family members, friends, loved ones, colleagues and associates. Our world is the sum total of each individual's decisions," the secretary continued. "The quality and correctness of those decisions will shape the world of tomorrow."
Bowen, who received an honorary Doctor of Public Service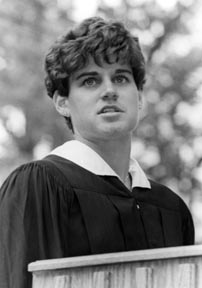 degree during today's commencement exercises, extolled the virtues of ordinary people who make up most of the nation and "are the heroes who hold our world together, provide hope and compassion and allow all of us to have an expectation of regularity in our lives."
Nancy Gritter (pictured at right), winner of the Walker Cup as the senior who has done the most for DePauw, told classmates that her search for the ideal commencement address led her to conclude, after reflecting on many of her own experiences from the past four years, that "it is up to each one of us to reflect individually on the significance of this day in our lives." Gritter, who is bound for the Indiana University School of Medicine, was a leader in several student organizations and an All-American and Academic All-American swimmer.
John C. Maxwell '36, a Phi Beta Kappa graduate of DePauw, also received an honorary degree. He was a professor and chairman of geological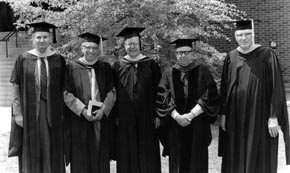 sciences at Princeton University from 1946 to 1970, when he became William Stamp Farish Professor at the University of Texas-Austin.
Also honored during the ceremony were retiring DePauw faculty members Arthur D. Carkeek, professor of organ and theory and University organist; Cassel W. Grubb, professor of violoncello and theory and former director of the School of Music; Daniel H. Hanna, professor of school music education and director of University bands; H. David Maloney, professor of economics and management; and Daniel L. Smith, director of the Prevo Science Library and assistant director of libraries.
Back