Jeri Kehn Thompson '88 Sits Down for Interview with Hometown Newspaper
October 8, 2007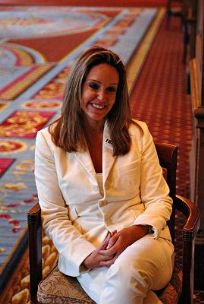 October 8, 2007, Greencastle, Ind. - Jeri Kehn Thompson "studied English at DePauw University in Greencastle, Ind., and after graduating, worked as a media consultant and Republican political strategist in Washington, D.C.," reports Illinois' Naperville Sun. "She met her husband in the supermarket in July 1996, after their paths crossed in the checkout line." The newspaper features an interview with the 1988 DePauw graduate and wife of presidential candidate and former U.S. Senator Fred Thompson. (photo at left: Danielle Gardner/Naperville Sun)
Jeri Thompson, who graduated from Naperville North High School, is asked about a number of subjects, including her upbringing, the media scrutiny she is enduring as a presidential candidate's wife, and the demands of raising two young children (ages 4 and 1) on the campaign trail.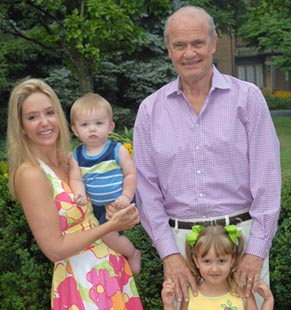 Susan Frick Carlman writes, "Recent months have seen Jeri Thompson painted a variety of ways in the press, from doting mom to trophy wife. She says she knew that would happen, but because she has granted few interviews, it can be hard to tell who she really is."
Thompson is also asked if she's given any thought to what it would be like to be the nation's first lady. "I have not," she tells the newspaper. "I almost feel it's slightly presumptuous. In a strange sort of way, I think there's a point where you look at it, and I haven't gotten there. I am lucky to get those kids (packed) with 22 outfits for spending six days on the road. It's a little daunting, and I haven't gotten that far -- except I know I would never let go of the things that always mattered to me, that brought me to Washington in the first place, and that is those first principles that Fred talks about so readily. And also I think there are some things that the press needs to do a little bit better, like (covering) the treatment of women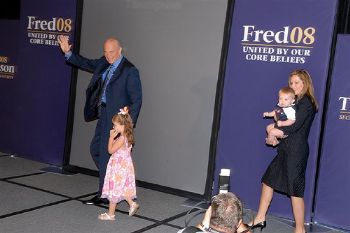 in Iran, things like that. We're very concerned about what certain women wear and how their hair looks and whether something's appropriate on the Senate floor, and I think that's hogwash. There's a whole lot of things that really matter, and shouldn't we be spending our time doing something else? And if the president and first lady cannot be the ones to guide to conversation somewhere better, then who?"
Access the entire piece at the Sun's Web site. A shorter version of the interview was published in the Chicago Sun-Times.
Learn more about Jeri Kehn Thompson in this previous story.
Back