Lee Hamilton '52 Receives Churchill Award for Statesmanship
November 11, 2007
November 11, 2007, Greencastle, Ind. - Lee H. Hamilton and James A. Baker III are the inaugural recipients of the Churchill Award for Statesmanship for their work in leading the Iraq Study Group. Hamilton, a former congressman and 1952 graduate of DePauw University, and Baker, former U.S. Secretary of State, were honored by the Churchill Centre October 25. (at left: Hamilton with DePauw students in East College)
"In naming Secretary Baker and Congressman Hamilton as recipients of the first Winston Churchill Award for Statesmanship, the Centre honors them for bringing people of diverse political beliefs together in the Iraq Study Group, which resulted in critical policy recommendations, many of which are already being implemented," notes an announcement from the organization. (at right, l-r: Hamilton, President Bush, Baker)
"Both Mr. Baker and Mr. Hamilton bring to the world stage an informed and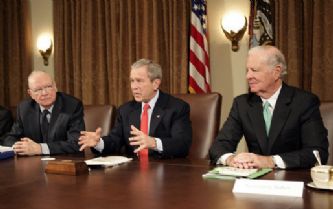 collaborative point of view in regards to foreign affairs that fosters continual learning and progress," said Laurence Geller, president of the Churchill Centre. "They share Sir Winston Churchill's passion for other cultures and desire for productive international relations."
The Churchill Centre was founded in 1968 to inspire leadership, statesmanship, vision, courage and boldness among democratic, freedom-loving peoples through the thoughts, words, works and deeds of Winston Churchill, and to educate future generations through his wisdom and example.
Read more at Forbes.com.
Back