"Monon Miracle" Subject of Newspaper Stories & is an ESPN 'Play of the Day'
November 11, 2007
Also:

A Come-From-Behind Monon Thriller Returns the Bell to DePauw; Visit 2007 Monon Bell Photo Gallery; Order Your Monon Bell DVD
November 11, 2007, Greencastle, Ind. - "There are moments, and then there are Monon Bell moments," writes Jeff Rabjohns in today's Indianapolis Star. "There are heroes, and then there are Monon Bell heroes. "Jordan Havercamp, a backup kicker who missed an extra point earlier in the game, walked onto the Blackstock Stadium field for his first field goal attempt of the season with 2.4 seconds remaining in one of college football's storied rivalries. With one swing of his powerful right leg, the sophomore stepped forever into Monon Bell Classic lore."
The report continues, "The Park Tudor graduate connected on a 47-yard field goal with plenty to spare as time expired, giving the Tigers a 24-21 upset of previously unbeaten Wabash in the 114th meeting between the schools."
"The kick," as it's being referred to 24 hours after the fact,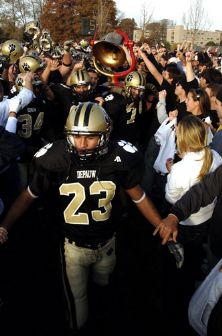 is the #7 "Play of the Day" on ESPN's SportsCenter today:

[Download Video: "National Attention" - 724kb].
"This is huge," says Havercamp, a sophomore who transferred to DePauw after a year -- and one unsuccessful field goal try -- at Denison. "My first year at DePauw, and I'm going to remember this forever."
"Unbelievable, unbelievable," added DePauw head coach Matt Walker '99. "It doesn't get any bigger than that. A 47-yard field goal to end the game in the Monon Bell."
Rabjohns points out, "The kick came six years to the day of the most recent 'Monon Miracle,' Jake Knott's pass that went off Ryan Short's hands and was caught by Kurt Casper for a 52-yard touchdown as time expired to give Wabash a 27-21 win. DePauw wins the bell for the first time in three years and trails just 53-52-9 in college football's 12th oldest rivalry. The Tigers lead 37-34-6 since the 300-pound bell was introduced as a traveling trophy in 1932."
Read the full story, "DePauw backup place-kicker delivers another Monon miracle," at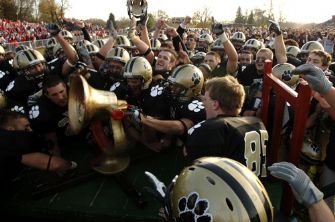 the Star's Web site. Other stories can be found in Anderson, Indiana's Herald Bulletin and the Wabash Plain Dealer.
Access an account of yesterday's game -- which includes video clips from HDNet's national telecast -- here. Comprehensive coverage of the thriller can be found at the football team's Web page.
A DVD of the 114th Monon Bell Classic is being produced as this story posts. Ordering information can be found in this previous article.
Back