DePauw Team Places Second at Regional 'Ethics Bowl'
November 14, 2007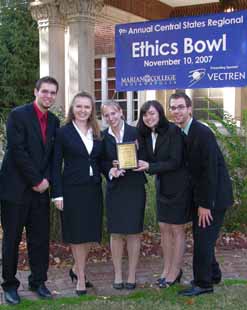 November 14, 2007, Greencastle, Ind. - A team from DePauw University finished second at the Central States Regional Ethics Bowl, which took place over the weekend on the campus of Marian College in Indianapolis. The ninth annual event featured 14 squads from 9 colleges and universities in Indiana, Tennessee, Ohio and Kentucky. Indiana University won the event.
The DePauw team was captained by Nick Casalbore and also included David Cylkowski, Kelly Gagnon, Emily McGill and Lauren Lefebvre. (top photo, l-r: Cylkowski, Gagnon, McGill, Lefebvre and Casalbore)
A second DePauw foursome placed ninth in the Ethics Bowl. It consisted of (pictured at right, l-r) Todd Schmid (captain), Jeff Shetler, Hallie Moberg and Sahahi Kiran.
Both teams are coached by Marcia McKelligan and
Robert D. Newton, professors of philosophy.
Ethics Bowl is an event inspired by the nationally televised College Bowl. It began in 1995 as an intercollegiate competition developed by faculty at the Illinois Institute of Technology in Chicago. Marian College has sponsored a Regional Ethics Bowl since 1999.
View the 2007 results by clicking here.
DePauw recently dedicated the Janet Prindle Institute for Ethics, which is located in the DePauw University Nature Park. Learn more in this previous story.
Back