4th Quarter Touchdown Gives Rival Wabash College an 8-7 Triumph
November 23, 1929
November 23, 1929, Crawfordsville, Ind. - This year's version of the annual football rivalry between DePauw University and Wabash College goes into the record books as a thriller, and an 8-7 DePauw loss. The setback ends the Tigers season with a 4-4 record; the Little Giants close out at 4-5.
Wabash took an early 2-0 lead on a safety, but DePauw wrestled the lead away from their hosts in the third quarter on a touchdown reception by halfback Hugh Hogan. The game was decided in the final stanza when -- on 4th and goal from the 10 yard line -- Wabash's Clayton Weist took a handoff, shook off 3 Tiger tacklers, and went into the end zone standing up.
DePauw enters next season looking for a new head football coach. William L. Hughes, who has guided the Tiger grid program since 1926, today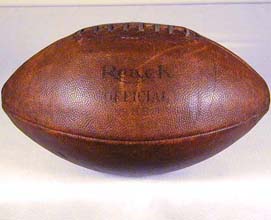 announced he will be leaving DePauw in June to take a post at Columbia University.
View a "Monon Memory" of the 1929 DePauw-Wabash football game here:

[Download Video: "1929 Monon Memory" - 4001kb]. A complete roster of the video clips -- written, produced and narrated by 1982 DePauw graduate Ken Owen -- can be accessed by clicking here.
For comprehensive information on one of college football's greatest rivalries -- which in 1932 introduced a 300-pound locomotive bell as its prize -- visit the Monon Bell Web page.
Back