NAACP Chapter Honors VP Neal Abraham as 'Citizen of the Year'
March 20, 2008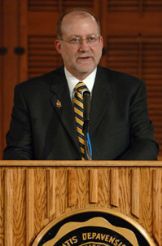 March 20, 2008, Greencastle, Ind. - The Greencastle chapter of the National Association for the Advancement of Colored People (NAACP) has honored Neal B. Abraham as its "Citizen of the Year." Dr. Abraham, executive vice president, vice president for academic affairs and dean of the faculty at DePauw University, was honored by the civil rights organization at its annual Freedom Fund dinner.
"Neal came to DePauw ten years ago with a very diverse background, having taught in China, Italy, Spain, Belgium and France as well as the U.S.," noted Charity Pankratz as she presented the award. "Since coming he has worked hard to improve the diversity on DePauw's campus and in the community as well. He was instrumental in bringing Tamra Garnes
Walker to the local educational community [as assistant principal at Tzounakis Intermediate School], in increasing the number of minority faculty members on campus, and hence in the Greencastle community." Pankratz also credited Abraham with being a "key figure in honoring and promoting national recognition of Percy L. Julian," the legendary scientist and 1920 DePauw graduate, whose life was the subject of a NOVA special in 2007.
"Neal and his wife, Donna Wiley, have given much to this community," Pankratz concluded. "We thank them for their commitment and constant support of NAACP initiatives and vision for the Greencastle community."
Neal Abraham came to DePauw in 1998 from Bryn Mawr College in Pennsylvania, where he served as a faculty member since 1980. Dr. Abraham has also taught at Swarthmore
College; Jilin University, China; Polytechnic University of Torino, University of Pisa, and University of Florence, Italy; University of the Balearic Islands and the Polytechnic University of Catalonia, Spain; Universite Libre de Bruxelles, Belgium, and the University of Lille, France. He is a Fellow of the Optical Society of America, a Fellow of the American Physical Society, and a Fellow of the American Association for the Advancement of Science.
Abraham served on the Executive Committee during the founding of Project Kaleidoscope, a national organization for the improvement of undergraduate science education. He also was an inaugural member of the National Research Council's Committee on Undergraduate Science Education. He has played leadership roles in the Council on Undergraduate Research and the National Conferences on Undergraduate Research.
Back