Bioethicist Clark Wolf to Discuss 'Climate as an Exhaustible Resource' Tuesday
May 3, 2008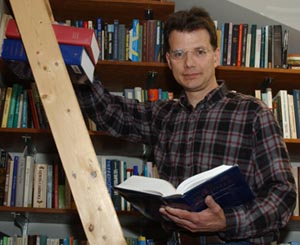 May 3, 2008, Greencastle, Ind. - Clark Wolf, associate professor of philosophy and director of the bioethics program at Iowa State University, visits the DePauw University campus on Tuesday, May 6. Wolf will discuss "Justice and the Further Future: Climate as an Exhaustible Resource" at 7:30 p.m. in the Pulliam Center for Contemporary Media's Watson Forum. The free program is presented by the Janet Prindle Institute for Ethics.
"I am most interested in those issues in bioethics that touch on concrete tools of policy and decision analysis, and which bring to bear current work in ethical theory and political philosophy," Wolf has stated. "Good bioethics must first be good philosophy, so bioethicists must be engaged with current work in ethical theory. Responsible work in philosophy and public policy must similarly be connected with the best work in political and legal philosophy, and must incorporate an articulate understanding of the best theories of policy analysis."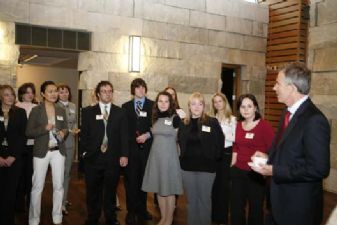 Created by a gift from 1958 DePauw graduate Janet W. Prindle, the Prindle Institute promotes critical reflection and constructive debate about the most important ethical questions: What is right, just, and good, and what must human beings do -- now and in the future -- to meet their moral responsibilities? The Institute seeks to explore with DePauw University students the moral challenges of the 21st century and encourage them not to remain silent in the face of injustice. (above right: Tony Blair with DePauw students at the Institute; March 3, 2008)
Visit the Prindle Institute online by clicking here.
Back