Thirteen Seniors to Teach For America Following Graduation
May 18, 2008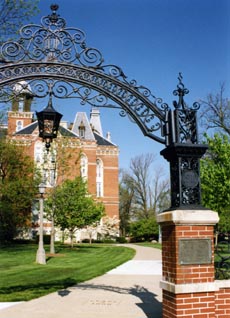 May 18, 2008, Greencastle, Ind. - Thirteen members of DePauw University's Class of 2008 have committed to spend the next two years participating in Teach For America (TFA), serving in urban and rural public schools across the nation. Seventeen DePauw seniors were accepted for the program, and a record 72 applied, which, according to Indiana recruitment director Lee Anne McKelvey '05, is a "tie for 4th in the country for the largest percentage of the senior class which applied -- above Harvard, Yale, and many other top tier schools."
Teach For America is a national corps of outstanding recent college graduates who commit two years to teach in public schools and become lifelong leaders in ensuring educational equity and excellence for all children. The program's mission is to build the movement to eliminate educational inequity by enlisting the nation's most promising future leaders in the effort.
Members of the Class of 2008 who will Teach For America are (names are followed by the cities/states to which they've been assigned):
Jillian Barr, New York
Sarah Bowers, St. Louis
Abby Currens, Atlanta
Dorrius Ford, Miami
Christine Dougan, Charlotte
Laura Kelley, Indianapolis
Shay Laws, Las Vegas
Whitney Long, Indianapolis
Kathleen Musca, St. Louis
Grace Noppert, Baltimore
Erin Ponto, Indianapolis
Cathryn Richter, St. Louis
Laura Wilson, St. Louis
DePauw University has had consistently strong participation in Teach For America over the last five years:
2007: 56 applicants, 19 accepted, 15 joined
2006: 50 applicants, 15 accepted, 14 joined
2005: 38 applicants, 14 accepted, 13 joined
2004: 36 applicants, 12 accepted, 4 joined
2003: 28 applicants, 9 accepted, 8 joined
"More than ever, graduating college seniors are signing up to spend two years in America's poorest communities as part of Teach for America, the non-profit that recruits and trains top college students for teaching jobs," noted an Associated Press story this
week. "The group saw applications jump by more than a third this year from about 18,000 to nearly 25,000. Of those, about 3,700 are expected to step up to the blackboard as new teachers this fall. That's up more than 25% from the 2,900 who did so last year."
Read more at the Web site of USA Today.
On May 26, 2006, Inside Higher Ed featured three 2006 DePauw graduates who opted to Teach For America in a story headlined, "The Hot Choice, Post-College."
Back