Tigers Finish Second for Second Straight Year; Post Seventh Straight Top-Four Showing
May 16, 2008
May 16, 2008, Waverly, Iowa - DePauw entered the 2008 NCAA Women's Golf Championships seeded ninth, but posted the program's best four-round total in its seven NCAA appearances and finished second for the second straight year.
The Tigers shot a 1258 which easily topped last year's 1303 and were second to Methodist which won with a 1219. Southwestern was third at 1263.
DePauw senior Ali Murtaugh (pictured right) shot a 303 and tied for sixth, while classmate Kristen Kriegshauser (pictured below) fired a 306 for a 10th-place tie. Both topped the previous best four-round DePauw score at the national championships of 313 by Sarah Gates in 2006.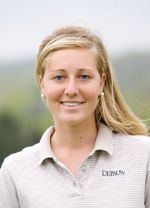 Junior Nikki Garza finished in a tie for 41st with a 324 after shoooting a collegiate best round of 78 today. Freshman Natalie Gough finished in 88th at 342, while Erin Kielty shot an 82 in the final round.
Methodist's Susan Martin was the individual medalist with a 294.
The second place finish for Vince Lazar's Tigers was the second straight, while the team has placed in the top four in each of the last seven Championships.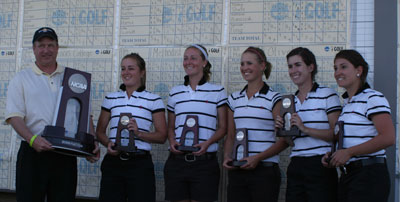 2008 NCAA Division III Championships
Centennial Oaks Golf Club
Waverly, Iowa
Dates: 5/13-16/2008
Par 72, 5866 yards

Fin.  Team                             Scores              Total    Par 
   1  Methodist University...........  307  309  299  304   1219    +67
   2  DePauw University..............  315  320  310  313   1258   +106
   3  Southwestern University........  309  320  313  321   1263   +111
   4  Illinois Wesleyan University...  317  330  308  316   1271   +119
   5  Otterbein College..............  317  320  315  329   1281   +129
   6  Gustavus Adolphus College......  323  323  322  316   1284   +132
   7  St. Thomas, U.of...............  321  318  317  329   1285   +133
   8  Williams College...............  326  323  319  320   1288   +136
   9  Allegheny College..............  331  316  309  333   1289   +137
  10  Wartburg College...............  322  322  326  320   1290   +138
  11  Olivet College.................  334  324  315  325   1298   +146
  12  Wisconsin-Stevens Point........  336  330  318  320   1304   +152
  13  Wisconsin-Eau Claire...........  333  334  318  320   1305   +153
  14  Middlebury College.............  337  328  321  329   1315   +163
t 15  McMurry University.............  345  325  330  325   1325   +173
t 15  St. Lawrence University........  340  331  322  332   1325   +173
  17  Mount Holyoke College..........  343  333  330  328   1334   +182
  18  Pacific University.............  349  337  323  332   1341   +189
  19  Franklin College...............  349  348  337  328   1362   +210
  20  Illinois College...............  366  355  341  349   1411   +259


Fin.  Player                Team                              Scores             Total    Par 
   1  Susan Martin......... Methodist University...........   74   72   75   73    294     +6
t  2  Katie Dick........... Methodist University...........   79   76   71   71    297     +9
t  2  Katie Tewell......... Franklin College...............   78   78   70   71    297     +9
   4  Meghan Sobotta....... Wisconsin-Eau Claire...........   78   78   73   71    300    +12
   5  Stephanie Mingos..... Rhodes College.................   71   76   76   78    301    +13
t  6  Kimbra Kosak......... Gustavus Adolphus College......   80   76   72   75    303    +15
t  6  Ali Murtaugh......... DePauw University..............   75   76   76   76    303    +15
t  8  Catherine Brunoehler. Otterbein College..............   78   75   74   78    305    +17
t  8  Jessica Urban........ Wisconsin-Stevens Point........   76   74   80   75    305    +17
t 10  Kimberly Eaton....... Wellesley College..............   75   73   77   81    306    +18
t 10  Kristen Kriegshauser. DePauw University..............   77   78   74   77    306    +18
  12  Kate Thompson........ Wartburg College...............   77   77   76   77    307    +19
t 13  Julia Gates.......... Oglethorpe University..........   79   79   77   76    311    +23
t 13  Jordan Matheson...... Macalester College.............   81   75   77   78    311    +23
t 13  Anne O'Leary......... Williams College...............   77   83   75   76    311    +23
t 16  Vicki Kasza.......... Hollins University.............   76   76   78   83    313    +25
t 16  Alair Muzzatti....... St. Lawrence University........   80   78   76   79    313    +25
t 16  Jaime Reints......... Allegheny College..............   78   78   76   81    313    +25
t 19  Kristen Davenport.... Southwestern University........   76   84   77   77    314    +26
t 19  Nicole Spear......... Illinois Wesleyan University...   78   81   76   79    314    +26
t 21  Paige Caldwell....... Methodist University...........   78   81   76   81    316    +28
t 21  Laura Heck........... St. Thomas, U.of...............   78   80   78   80    316    +28
t 21  Marisa Mauldin....... Southwestern University........   76   78   81   81    316    +28
t 21  Maddie Murphy........ Illinois Wesleyan University...   81   81   74   80    316    +28
  25  Rachel Roberg........ Gustavus Adolphus College......   79   76   81   81    317    +29
  26  Gretchen McLean...... Methodist University...........   76   80   83   79    318    +30
t 27  Melissa Barton....... Williams College...............   81   79   81   78    319    +31
t 27  Delilah Dominguez.... Southwestern University........   79   82   79   79    319    +31
t 29  Kristi Katz.......... Illinois Wesleyan University...   76   82   83   79    320    +32
t 29  Tory MacNeil......... Elmira College.................   84   82   78   76    320    +32
t 31  Amy Anderson......... St. Thomas, U.of...............   80   75   80   86    321    +33
t 31  Rustie Anderson...... Otterbein College..............   78   80   79   84    321    +33
t 31  Trisha McKim......... Olivet College.................   82   84   81   74    321    +33
t 34  Zahra Aliza Hanif.... Mount Holyoke College..........   82   84   78   78    322    +34
t 34  Laura Koplik......... Williams College...............   83   79   78   82    322    +34
t 34  Michelle Pascavis.... Wisconsin-Stevens Point........   87   78   80   77    322    +34
t 37  Steph Burns.......... Wartburg College...............   80   77   84   82    323    +35
t 37  Torie Ives........... Wisconsin-Eau Claire...........   80   86   78   79    323    +35
t 37  Cody Wallace......... Southwestern University........   87   76   76   84    323    +35
t 37  Katrina Wood......... Carleton College...............   87   81   79   76    323    +35
t 41  Nicole Garza......... DePauw University..............   82   83   81   78    324    +36
t 41  Holly Noble.......... St. Thomas, U.of...............   84   83   78   79    324    +36
t 43  Lisa Coleman......... Allegheny College..............   84   79   76   86    325    +37
t 43  Meredith Robinson.... Illinois College...............   81   77   83   84    325    +37
t 43  Libby Scarlett....... McMurry University.............   86   79   82   78    325    +37
t 46  Meagan Brennan....... Ohio Northern University.......   79   85   87   76    327    +39
t 46  Alison Bruckner...... Allegheny College..............   84   80   80   83    327    +39
t 46  Alyssa Gaudio........ North Central College..........   84   81   84   78    327    +39
t 46  Lindsey Haines....... Illinois Wesleyan University...   82   86   81   78    327    +39
t 50  Kristin Berretta..... St. Lawrence University........   82   79   83   84    328    +40
t 50  Jesse Blustein....... Middlebury College.............   84   84   82   78    328    +40
t 50  Kelly Butler......... Otterbein College..............   85   83   79   81    328    +40
t 50  Karla Leon........... Macalester College.............   82   84   78   84    328    +40
t 50  Karen Levin.......... Middlebury College.............   82   82   82   82    328    +40
t 50  Lindsay Pipkin....... Olivet College.................   82   85   77   84    328    +40
t 50  Katie Potts.......... St. Thomas, U.of...............   80   83   81   84    328    +40
t 50  Amanda Sanders....... Olivet College.................   87   80   76   85    328    +40
t 58  Courtney Mazzei...... Middlebury College.............   84   81   79   85    329    +41
t 58  Megan Rimmel......... Olivet College.................   86   79   81   83    329    +41
t 60  Julie Ellenberger.... Middlebury College.............   87   81   78   84    330    +42
t 60  Valerie Kitamori..... Pacific University.............   85   83   81   81    330    +42
t 60  Sarah Mosher......... Wisconsin-Stevens Point........   82   89   78   81    330    +42
t 60  Katie Schenfeld...... Gustavus Adolphus College......   79   87   85   79    330    +42
t 64  Alessandra Bollero... Illinois Wesleyan University...   82   88   77   84    331    +43
t 64  Katie Dale........... Oglethorpe University..........   85   79   83   84    331    +43
t 64  Daina Deery.......... Wartburg College...............   82   85   84   80    331    +43
t 67  Kathleen Banaszak.... Mount Holyoke College..........   87   80   80   85    332    +44
t 67  Sara Dickson......... Methodist University...........   81   91   77   83    332    +44
t 67  Megan Hanson......... St. Thomas, U.of...............   83   80   83   86    332    +44
t 67  Monica Harris........ McMurry University.............   89   80   81   82    332    +44
t 67  Barbara John......... McMurry University.............   86   82   81   83    332    +44
t 67  Emily White.......... Otterbein College..............   79   83   83   87    332    +44
t 73  Amber Conrad......... Olivet College.................   84   81   85   84    334    +46
t 73  Jordan Galles........ Wartburg College...............   83   83   87   81    334    +46
t 73  Julia Wears.......... Allegheny College..............   89   79   77   89    334    +46
  76  Tami Park............ Pacific University.............   86   83   81   85    335    +47
t 77  Kelly Hartley........ Pacific University.............   86   86   79   85    336    +48
t 77  Natalie King......... Otterbein College..............   82   82   86   86    336    +48
t 77  Kait O'Brien......... Williams College...............   85   82   85   84    336    +48
t 80  Laura Burkholder..... Allegheny College..............   85   84   85   83    337    +49
t 80  Victoria Dominguez... Southwestern University........   78   84   81   94    337    +49
t 82  Vanessa Fong......... Mount Holyoke College..........   87   82   86   83    338    +50
t 82  Amanda Johnson....... Gustavus Adolphus College......   85   84   86   83    338    +50
  84  Kali Griggs.......... Gustavus Adolphus College......   85   89   84   81    339    +51
  85  Erin McPherson....... McMurry University.............   88   84   86   82    340    +52
t 86  Casey Lawton......... St. Lawrence University........   86   87   80   88    341    +53
t 86  Brianna Obermueller.. Wisconsin-Eau Claire...........   85   88   82   86    341    +53
  88  Natalie Gough........ DePauw University..............   89   83   86   84    342    +54
t 89  Jasmine Ching........ Pacific University.............   92   86   82   84    344    +56
t 89  Rebecca Lewis........ Wartburg College...............   87   90   82   85    344    +56
t 89  Katie Swift.......... Wisconsin-Eau Claire...........   90   82   88   84    344    +56
t 92  Tiffany Shute........ Mount Holyoke College..........   87   87   86   85    345    +57
t 92  Kim Sikule........... St. Lawrence University........   92   87   83   83    345    +57
  94  Grace Adams.......... Franklin College...............   88   87   88   85    348    +60
  95  Sarah Keating........ Mount Holyoke College..........   87   91   89   82    349    +61
  96  Le Anna Nash......... Pacific University.............   99   85   84   82    350    +62
t 97  Meagan Harris........ McMurry University.............   85   89   89   88    351    +63
t 97  Katie Kautz.......... Wisconsin-Stevens Point........   93   91   80   87    351    +63
  99  Sarah Hansen......... Wisconsin-Eau Claire...........   90   88   85   89    352    +64
t100  Lauren Anstey........ Williams College...............   90   95   89   84    358    +70
t100  Amanda Dlugopolski... Wisconsin-Stevens Point........   91   89   86   92    358    +70
 102  Caitlin Cunningham... St. Lawrence University........   92   92   89   86    359    +71
 103  Samantha Marshall.... Franklin College...............   94   94   91   81    360    +72
 104  Natalie Daugherty.... Franklin College...............   90   95   88   91    364    +76
 105  Juliann Papesch...... Illinois College...............   98   91   92   91    372    +84
 106  Ashley Edwards....... Illinois College...............   94   91   87  101    373    +85
 107  Liz Hirsch........... Middlebury College.............   95   95   93   92    375    +87
 108  Caitlin Purkhiser.... Franklin College...............   93   89   95  100    377    +89
 109  Leah Reuschel........ Illinois College...............   96   96   99   91    382    +94
      Erin Kielty.......... DePauw University..............   81    -   79   82    DNF       
      Janelle Kuhn......... Illinois College...............   95    -   79   83    DNF       


Back