Footballers End Long Drought With 7-0 Triumph Over Wabash
October 20, 1913
October 20, 1913, Crawfordsville, Ind. - For the first time since 1901, DePauw University football fans are savoring the sweet taste of victory over their football rival to the north, Wabash College. This afternoon, playing on enemy turf, the DePauw men toughed out a 7-0 victory over the Little Giants in front of a Monday crowd described as "large and loud."
DePauw improves to 2-1-1 on the season, while Wabash remains winless with two losses and a tie.
DePauw's lone score came in the second quarter. On fourth down from the Wabash 10 yard line, DePauw halfback Gordon Thomas grabbed a delayed pass, scampered toward paydirt, but was hit as he reached the goal line and fumbled the football. Five Wabash players made a dive for the loose pigskin, but DePauw fullback Hank Rowan gathered it in and claimed six points in the process. Rowan's extra point kick was good, and that was all of the day's scoring.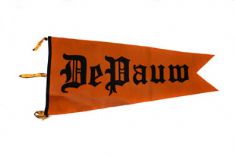 Today's game was played on a Monday for the first time in the series' history in hopes of drawing more local businessmen to Ingalls Field.
View a "Monon Memory" of the 1913 clash between DePauw and Wabash -- featuring historic photos -- here:

[Download Video: "1913 Monon Memory" - 2409kb]. A complete roster of the video clips -- written, produced and narrated by 1982 DePauw graduate Ken Owen -- can be accessed by clicking here.
For comprehensive information on one of America's greatest and longest-running college football rivalries -- which in 1932 introduced a 300-pound locomotive bell as its prize -- visit the Monon Bell Web page.
Back