Film Featuring Vernon Jordan '57 Readies for Chicago Festival, HBO Airing
July 31, 2008
July 31, 2008, Greencastle, Ind. - The film The Black List: Volume One, which features 1957 DePauw University graduate Vernon Jordan and other African-American leaders, will be screened August 5 as part of the 14th Annual Black Harvest International Festival of Film and Video. The festival will take place at Chicago's Gene Siskel Film Center. Filmmaker Elvis Mitchell will participate in a question-and-answer session following the screening.
The film, which drew critical praise at this year's Sundance Film Festival, will debut on HBO on Monday, August 25 at 8 p.m.
An announcement states, "The Black List presents dramatic portraits of some of today's most fascinating and influential African-Americans, who share their stories and insights into the struggles, triumphs and joys of black life in the U.S. The film is a collaboration between celebrated portrait photographer and filmmaker Timothy Greenfield-Sanders, who directs, and award-winning journalist Elvis Mitchell, who interviews such notables as Kareem Abdul-Jabbar, Sean Combs, Thelma Golden,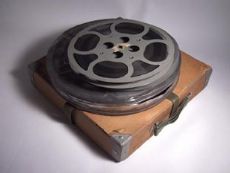 Lou Gossett, Jr., Bill T. Jones, Vernon Jordan, Toni Morrison, Suzanne-Lori Parks, Richard Parsons, Chris Rock, Al Sharpton, Slash, Faye Wattleton, Serena Williams, Keenen Ivory Wayans and Zane."
Learn more by clicking here.
Vernon Jordan served as president of the National Urban League and served as an adviser to Presidents Clinton and Carter. An advisory member of DePauw's Board of Trustees, he is currently senior counsel at the law firm Akin Gump Strauss Hauer & Feld LLP and senior managing director of the investment firm Lazard Frères & Co. LLC.
Read more about Jordan in this previous story.
Back