Doug Frantz '71 Tapped as Chief Investigator for Senate Foreign Relations Committee
January 7, 2009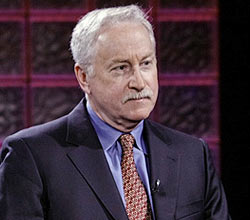 January 7, 2009, Greencastle, Ind. — "Douglas Frantz, a former managing editor of the Los Angeles Times, has been chosen to be chief investigator for the Senate Foreign Relations Committee as it reorganizes under its new chairman, Sen. John F. Kerry (D-Mass.)," reports the Times this evening. A 1971 graduate of DePauw University, "Frantz was the managing editor of the Times from 2005 to 2007 and has also been an investigative reporter for the Times, the Chicago Tribune and the New York Times. He was the Istanbul, Turkey, bureau chief for the New York Times and a reporter there for the Los Angeles Times."
Access the article at
the newspaper's Web page.
Doug Frantz's books include the recent The Nuclear Jihadist: The True Story of the Man Who Sold the World's Most Dangerous Secrets ... and How We Could Have Stopped Him and Celebration, U.S.A.: Living in Disney's Brave New Town.
Frantz returned to the Greencastle campus in September to moderate a DePauw Discourse session with former secretary of state Madeleine Albright. A summary of the event can be found in this previous story.
Back