Donna Osuch '87 Leading United Way of West Central Connecticut
February 2, 2009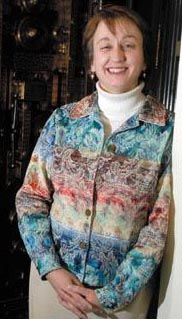 February 2, 2009, Greencastle, Ind. — "This is a chance for us to rethink how we do business, to be more responsive to the community," says Donna (Stretch) Osuch, a 1987 graduate of DePauw University, who is the subject of a story in today's edition of Connecticut's Bristol Times. "For many nonprofit groups, the biggest challenge of 2009 is staying financially above water as funding sources evaporate," writes Bill Sarno. "However, treading water is not good enough for the new president and chief professional officer of the United Way of West Central Connecticut, Donna Osuch." (photo: Bristol Times)
The article adds that "this new role fits Osuch's background well. This busy mother of two boys has coordinated United Way's community impact efforts for the last four years, working on increased funding and partnerships for the four area communities.
When longtime United Way executive Cary Dupont left West Central last summer to become principal at St. Paul Catholic High School, Osuch stepped in as interim president and CPO. Last week, the board of directors made this appointment permanent. The new president holds a bachelor's degree from DePauw University in Indiana and a master's degree in social work from the University of Connecticut."
Read the complete text -- headlined "New president of United Way refusing to 'tread water'" -- at the newspaper's Web site.
Back