Biography of Barney Kilgore '29 Reviewed in Wall Street Journal
March 9, 2009
Also: Information on Richard Tofel's DePauw Lecture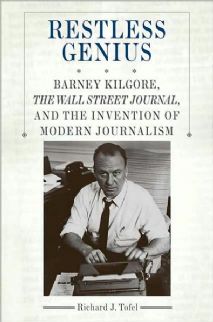 March 9, 2009, Greencastle, Ind. — Richard J. Tofel's new book on legendary journalist and 1929 DePauw University graduate Bernard "Barney" Kilgore "is both an engrossing biography ... and an appreciation of his work as a newspaperman -- his role, as Mr. Tofel's subtitle has it, in 'the invention of modern journalism,'" opines Myron Kandel in today's Wall Street Journal. Kandel offers a review of Restless Genius: Barney Kilgore, The Wall Street Journal, and the Invention of Modern Journalism, which was published last month by St. Martin's Press.
"Born and raised in Indiana, the son of a school superintendent turned insurance salesman, Leslie Bernard Kilgore (called 'Barney' by nearly everyone) was intellectually precocious," notes the review. "At age 16, he entered DePauw University in Greencastle, Ind., where he eventually edited the campus newspaper and developed friendships with some talented young journalists who would later become his colleagues at the Wall Street Journal. Nearing graduation, he applied for a job at the Journal and started work there in September 1929, seven weeks before the Crash. Three months later he was posted to the paper's West Coast edition, with the title of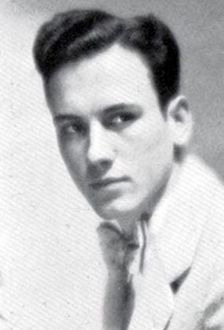 San Francisco news editor. At 23, he began writing a column, which to his delight was also published in the New York edition. He became Washington bureau chief at 26, managing editor at 32 and general manager of Dow Jones & Co. at 34." (at right: Kilgore from DePauw's 1929 Mirage yearbook)
Kandel reports, "While researching his biography, Mr. Tofel -- who worked at the Journal in several capacities, including assistant managing editor and assistant publisher (he left the paper in 2004) -- was allowed access to 30 years of correspondence between Kilgore and his father. One letter, written when Barney was just starting at DePauw, epitomizes the elder Kilgore's stern but loving persona. 'The main thing is to train your mind in clear and straight thinking,' he wrote to his son. 'The habits of thought you are forming now will stay with you as long as you live.' It is not hard to see how such words themselves helped to form the man who would, for decades, define the Journal's reportorial voice and defend its integrity."
Kilgore retired as president of Dow Jones in 1966 and died the following year. "The Journal's circulation, which was under 32,000 when he became managing editor in 1941, was then just about one million," relates the reviewer. "It later rose to two million. It is hard not to think that, were Barney Kilgore alive today, he would be saddened by the perilous state into which most of the nation's newspapers have fallen but would also be hard at work trying to revive their fortunes."
Access the complete piece -- "Making the News New: A portrait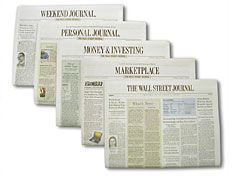 of the man who did so much to shape the modern Wall Street Journal -- at the Journal's Web site (a subscription may be required).

[Download Video: "Bernard Kilgore Video Biography" - 9509kb]
Richard Tofel will visit DePauw on April 17 to discuss Restless Genius as part of a day-long celebration of the 100th anniversary of the founding of the Society of Professional Journalists/Sigma Delta Chi. Tofel's lecture will begin at 2 p.m. in Meharry Hall of historic East College and is free and open to all.
Read more about Restless Genius and the legacy of Barney Kilgore, who was longtime member of DePauw's Board of Trustees, in this previous story.
Back