New Novel by Barbara Kingsolver '77, The Lacuna, Set for November Release
April 22, 2009
April 22, 2009, Greencastle, Ind. — The Lacuna, described by London's Bookseller as "the first novel by The Poisonwood Bible author Barbara Kingsolver in nearly 10 years," is set for a November 2009 worldwide release. The book will be published in the United States by HarperCollins and via Faber in the U.K. Kingsolver is a 1977 graduate of DePauw University.
"Set in Mexico and the U.S. during the 1930s, '40s and '50s, the novel tells the story of fictional Harrison Shepherd, who works for Mexican painter Diego Rivera," notes Bookseller. "Shepherd becomes the confidante of Rivera's artist wife, Frida Kahlo, and then secretary to her one-time lover, Trotsky, until his assassination. Shepherd later flees Mexico for the U.S., where he becomes a bestselling author before coming under a McCarthy-style investigation. The Lacuna is told through Shepherd's diaries and letters, as well as newspaper cuttings," notes the publication.
Faber's Hannah Griffiths says the upcoming book is "without doubt the most extraordinary novel I have read for years. The interesting thing is the way she interweaves real documents and real lives into the story. The word 'lacuna' itself has many different meanings and she manages to encompass most of them in the book: a cave, a missing text, a gap -- all these things are really relevant to the story."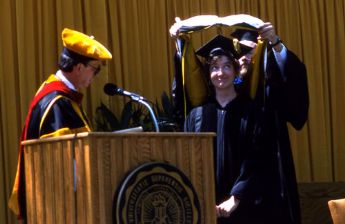 Read more by clicking here.
Barbara Kingsolver's twelve books of fiction, poetry, and creative nonfiction include The Bean Trees and Animal, Vegetable, Miracle: A Year of Food Life, which was listed among the ten best nonfiction books of 2007 by TIME magazine. Translated into nineteen languages, Kingsolver's work has won a devoted worldwide readership and many awards, including the National Humanities Medal. Read more in this recent story.
In 1994, Kingsolver delivered the commencement address at DePauw, and was also awarded an honorary degree during the ceremony. A summary of her speech can be found in this previous story.
Back