"A DePauw Education Travels Very Well," Astronaut Joe Allen '59 Tells Alumni Celebration
June 13, 2009
June 13, 2009, Greencastle, Ind. — "We're here to celebrate the uncommon success of our class members over the course of these last fifty years, former astronaut Joseph P. "Joe" Allen IV told fellow members of DePauw University's Class of 1959 this morning. "I had the world's best job," Dr. Allen declared,

[Download Video: "Making a Difference" - 1109kb] "and the best job out of this world. But at most, I am just a footnote in the extraordinary list of accomplishments by my fellow classmates -- individuals who, for 50 years, have succeeded in pursuing the world's best jobs, occupations that made a difference every day and made this world a much better world for their community and for their families."
Allen and his golden anniversary classmates entered the Alumni Celebration at the Green Center for the Performing Arts' Kresge Auditorium this morning in triumphant fashion as Here's To DePauw blared over the sound system:

[Download Video: "Class of 1959 Enters" - 2922kb].
Dr. Allen was a nuclear physics research associate at the University of Washington when NASA selected him as one of 11 scientist-astronauts in 1967. After serving several administrative positions with NASA, including four years at headquarters, he returned in 1981 to Johnson Space Center where he helped support the first space shuttle flight.
Allen flew on two milestone space shuttle flights: the first operational mission on Columbia in 1982, and the first satellite salvage mission on Discovery in 1984. He served as CEO of Space Industries International and later served as chairman of Veridian Corp. until his retirement in 2004. A 2005 inductee of the U.S. Astronaut Hall of Fame, Allen is now writing a book, Entering Space: An Astronaut's Odyssey.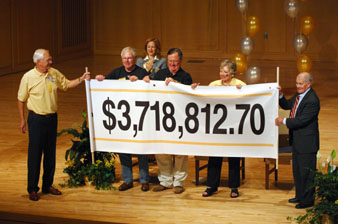 Dr. Allen closed by noting that the education he and his classmates received

[Download Video: "Preparation for Great Adventures" - 2000kb] "allowed us to be reliable and successful leaders in a world always in transition and often in chaos. And we, the Class of '59, can assure you that a DePauw education endures for at least five decades and can take you on grand adventures -- spiritual, intellectual, and sometimes physical -- across vast distances. A DePauw education travels very well, indeed."
Hear Joe Allen's remarks in their entirety here:

[Download Audio: "Joseph P. Allen IV '59" - 11,035kb].
Slowly unfurling a long banner, per University tradition, members the Class of 1959 displayed their 50th reunion celebration gift to the University, totaling more than $3.7 million.

[Download Video: "Class of 1959's Reunion Gift" - 1227kb]
Andrew B. Buroker presented the silver anniversary address, and recalled how his Class of 1984 came to DePauw at a time when the Cold War was escalating and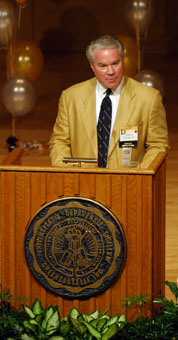 sky-high inflation and interest rates had crippled the U.S. economy.

[Download Video: "Meeting the Challenges" - 1611kb]"We experienced four years of intense change and transformation into adults and citizens of the world," he said. "We reached beyond our boundaries and what we knew and what we thought we could become when arriving at DePauw."
A partner in the Indianapolis-based law firm Krieg Devault LLP, Buroker is the former national chairman of the board of the American Heart Association and a mountain climber who has brought the DePauw banner to the summits of Mt. Rainier, Mt. Kilimanjaro, Mont Blanc, Mt. St. Helens, Mt. Adams, Mt. McKinley, and Mrt. Elbrus in Russia.
"Through hard work, intense study, constant interpersonal exchanges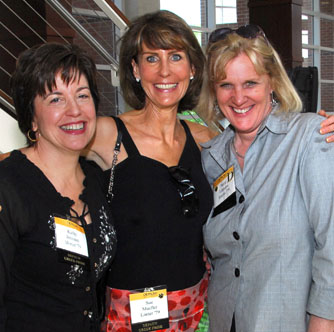 and only occasional social excesses, we questioned, doubted, explored, stretched and amended our morality, our physicality, sexuality, spirituality, and certainly our normality to a degree that we were much different upon leaving DePauw than when entering, I suggest to you for the better and ready to make our grand entrance unto the world stage."
The complete address by Andrew Buroker can he heard via this link:

[Download Audio: "Andrew B. Buroker '84" - 10,712kb].
The alumni who gathered in Kresge Auditorium also heard from Brian W. Casey, who is completing his first year as
DePauw's nineteenth president.

[Download Video: "A Promising Future, A Cherished Past" - 761kb] "You are sititing here as graduates of one of the finest colleges and universities in this country," declared Dr. Casey, who came to DePauw from Harvard University last July.
The new president's remarks ranged from the wildly humorous -- as he recalled a dining experience at a fraternity house -- to an update on the new president's initiatives, including his year-long examination of the 172-year-old college's intellectual life. Casey said DePauw "will look forward with careful planning and with courage, but it's also a place that has ghosts in its buildings and echoes of generations of students who came here and were changed here."
President Casey's full speech is available here:

[Download Audio: "President Brian W. Casey" - 15,826kb]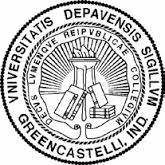 More than 1,600 alumni and their spouses are on campus today. Alumni Reunion Weekend 2009 continues through tomorrow and includes a performance at 8:30 tonight by the legendary Kingston Trio.
For more information, including a complete schedule of events, including reunion dinners, click here.
Back