Patrick Petro '97 is ESOP Association 'Employee Owner of the Year'
May 11, 2009
May 11, 2009, Greencastle, Ind. — Patrick Petro, marketing coordinator of Worm's Way, Inc. in Bloomington, Indiana, and 1997 graduate of DePauw University, has been named the 2009 Employee Owner of the Year by the ESOP Association. The award was presented at the association's 32nd annual conference in Washington, D.C. The ESOP Association is the national trade association for companies with employee stock ownership plans (ESOPs) and the leading voice in America for employee ownership. (at left: Petro holding his award)
"Mr. Petro has been instrumental in making ownership meaningful at Worm's Way and has continued to actively expand his own ESOP knowledge and share it with employee owners at the company and with the ESOP community at large," notes an announcement. "He has proven himself to be an active leader in the company, especially in relation to the growth of the company's ownership culture."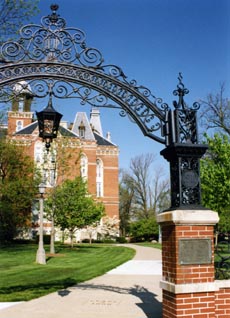 Petro has served as chair of the Worm's Way ESOP communications committee and is an active member of the association's Indiana chapter.
"Patrick is an outstanding ESOP advocate not only for his own company but for all Indiana ESOP companies," states J. Michael Keeling, president of the ESOP Association. "He has worked to develop a strong ESOP culture at Worm's Way and those of other companies in the ESOP community. I am honored to present him with this award."
The core cause of the ESOP Association is the belief that employee ownership will improve American competitiveness, increase productivity through greater employee participation, and strengthen our free enterprise economy.
Read more by clicking here.
Back