Jessica Strong '09 Will Study Music's Effects on Dementia with Fulbright Award
June 21, 2009
June 21, 2009, Greencastle, Ind. — Jessica V. Strong, a May 2009 graduate of DePauw University, will spend a year conducting research in Germany as a result of receiving an international graduate study and research grant through the 2009-10 Fulbright U.S. Student Program competition. Fulbright student grants aim to increase mutual understanding among nations through educational and cultural exchange while serving as a catalyst for long-term leadership development. Strong's research project is entitled "The Effects of Music on Individuals with Dementia and Depression."
Strong is the sixth member of the DePauw community to receive a Fulbright Award for the coming academic year. Anne M. Schaufele, a 2007 graduate of the University, will conduct research in El Salvador. Three May 2009 graduates of the University also received Fulbright grants: Ross A. Robinson will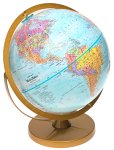 spend the next academic year in Germany teaching English to young people. Lauren A. Wendling plans to travel to South Korea through an English Teaching Assistantship. Todd J. Schmid will spend a year conducting research in Paraguay as a result of receiving an international graduate study and research grant. Rebecca L. Upton, associate professor of sociology and anthropology and director of conflict studies at DePauw, will conduct research at the HIV/AIDS Centre at the University of Botswana in Gaborone, Botswana.
Strong earned dual Bachelor of Arts/Bachelor of Music degrees with a triple major in music performance (piano), psychology and German. She also recently received a scholarship through the DAAD (German Academic Exchange Service).
During her year in Germany, she will research the effect of music on an elderly population with dementia, specifically comparing individuals with only dementia to those with a comorbid diagnosis of depression.
"From

this research, I will be able to draft a manuscript to submit for publication," she wrote in her Fulbright application. "I will build upon my prior experience doing research at Washington University in St. Louis through National Science Foundation funding on symptom management for individuals with dementia. Following my proposed year of study in Germany, I would like to pursue either a clinical or cognitive Ph.D. in psychology (in Germany or in the United States). In addition to providing practical experience for writing a dissertation, this Fulbright experience will push me toward my goal of researching the effectiveness of music therapy as an alternative treatment for adults with dementia; a therapy that could be used internationally."
Strong notes that dementia was estimated to affect 23.4 million people worldwide in 2005, and that the figure is expected to double every twenty years. "The medical field provides some pharmacological treatments for dementia; however, none of these treatments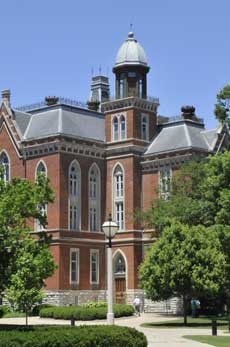 offer complete assurance of delaying or curing the symptoms," she states. "To date, I have done focused research on how occupational therapy can allow older individuals to stay at home longer. I would like to extend my passion for and knowledge of music to my interest in researching dementia. Some studies have shown that music can decrease the amount of negative symptoms -- crying, violent or aggressive acts, among others, that are displayed by individuals with moderate to severe dementia as well as increase the amount of displayed interaction with others (positive or neutral symptoms). Other studies have found an increase in short-term cognition scores up to 24 hours following a music therapy session. Can playing music for individuals with dementia (for instance in a ward setting) decrease the amount of negative symptoms?"
Strong will work at the Central Institute of Mental Health in Mannheim, Germany, which is currently researching the relationship between dementia and depression and take classes at the University of Mannheim.
"I believe that the Fulbright mission of cross cultural exchange and understanding would be fulfilled in my research incorporating music, dementia and depression," she wrote to the Fulbright committee. "The opportunity to interact with individuals, both older persons and other researchers on such personal levels as music and the brain is something of a rarity. Music stirs such deep emotions and memories in all of us, uniting peoples all over the world. I will use these personal, musical experiences to span cultural differences."
"Jessica has significant experience in the fields of music and psychological research and analysis, and a lifelong interest in working with the older population," says Douglas E. Harms, Herrick E.H. Greenleaf Professor of Computer Science at DePauw and the University's Fulbright Program Adviser. "This project is a wonderful combination of her many interests and she is exceptionally well qualified for it. Jessica is articulate and sophisticated, and her enthusiasm and passion for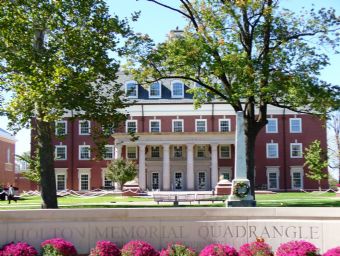 this work is very evident."
Sponsored by the U.S. Department of State, the Fulbright U.S. Student Program is the largest American international exchange program offering opportunities for students and young professionals to undertake international graduate study, advanced research, university teaching, and teaching in elementary and secondary schools worldwide. The U.S. Student Program currently awards approximately 1,500 grants annually in all fields of study, and operates in approximately 155 countries worldwide. Fulbright full grants generally provide funding for round-trip travel, maintenance for one academic year, health and accident insurance and full or partial tuition. Since its inception in 1946, the Fulbright Program has provided more than 286,000 participants, chosen for their leadership potential, with the opportunity to observe each others' political, economic and cultural institutions, exchange ideas, and embark on joint ventures of importance to the general welfare of the world's inhabitants. Learn more by clicking here.
To contact Dr. Harms, the recipient of a Fulbright Award for the 2004-05 academic year, send an e-mail to dharms@depauw.edu.
DePauw University is among the "Top Producers of Fulbright Awards for

U.S. Students, 2008-09" according to a chart published in the October 24, 2008 edition of the Chronicle of Higher Education. The publication notes that three 2008 DePauw graduates received Fulbright Awards to study and live abroad for a year, and that 17 students at the University applied for the prestigious grants.
DePauw also ranks among the top 10 baccalaureate institutions in the nation for the total number of students who studied abroad in 2006-07, according to the 2008 Open Doors report. Learn more in this story.
Back