A Day Before the Inauguration, VP-Elect Dan Quayle '69 Visits NBC's Today
January 19, 1989
January 19, 1989, Greencastle, Ind. — "Give us a chance. Give us an opportunity to serve the country," 1969 DePauw University graduate Dan Quayle told NBC's Today this morning. Appearing in a live interview with Bryant Gumbel a day before he is to be inaugurated as America's 44th vice president, Quayle added, "Watch us. Watch what we do, watch what we say, watch where we go, watch how we go about and lead, and then you can make a judgment on what kind of a president George Bush is going to be, what kind of a vice president Dan Quayle is going to be."
Quayle asserted, "I want to be an effective vice president," and says former veeps Richard Nixon, Gerald Ford, Walter Mondale, and the current VP, President-Elect George H.W. Bush, all advised him, "Don't get loaded up early on with a lot of assignments." Instead of what he calls "makework-type jobs," Quayle says, "What I want to take on are assignments that are, first, important to the president, of stature, of substance and things that are truly meaningful."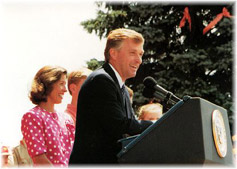 See the complete interview here:

[Download Video: "Dan Quayle '69 Visits Today" - 16,155kb].
Dan Quayle was elected to two terms in both the U.S. House of Representatives and U.S. Senate. He delivered the commencement address to DePauw's Class of 1982. An article which includes audio of the speech is available here.
Back