Quote from Garry Trudeau's Commencement Remarks Has National Reach
May 23, 1983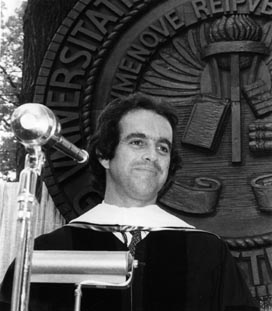 May 23, 1983, Greencastle, Ind. — "Garry Trudeau, who received an honorary degree from DePauw University in Greencastle, Ind., along with space shuttle crewman Joseph Allen, said astronauts were America's 'only remaining heroes,'" begins an item which appears in a number of U.S. newspapers, including today's Milwaukee Sentinel. "The cartoonist noted at Saturday's commencement that he was in grade school when the Soviet Union launched Sputnik."
The Doonesbury creator told DePauw's Class of 1983, "Twenty-five years later, our astronauts ... are arguably the only remaining heroes in a world which no longer is kind to heroes. The many disillusionments of the 1960s and 1970s have certainly taken their toll."
The article notes that Joe Allen is a 1959 graduate of DePauw and "was a

mission specialist aboard the shuttle Columbia last November."
You'll find the piece here.
For coverage of DePauw's 144th commencement, click here.
Back